Welcome to the Habitat for Humanity International career site. 
Here you will learn more about and can apply for Habitat for Humanity International's current employment, volunteer and internship opportunities. You can also search for open positions with Habitat for Humanity affiliates, as well as positions with our national organizations located outside the United States.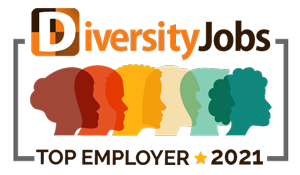 In 2021, DiversityJobs.com awarded Habitat for Humanity the designation of Top Diversity Employer for its dedication and commitment to building a diverse workforce and inclusive culture.
Habitat for Humanity International is part of the Metro Atlanta Chamber's ATL Action for Racial Equity, a multi-year, multi-step action plan designed to help organizations address the ongoing effects of systemic racism impacting the Black community. Our organizational commitments align with those of ATL Action for Racial Equity, including taking concrete actions in the areas of people, talent pipeline and human resources policies.
Habitat for Humanity International's total rewards philosophy is to competitively compensate our employees for contributing to our role as a leading global nonprofit working in local communities across all 50 states in the U.S. and in more than 70 countries.
Our employment offerings include:
Market competitive salaries, with ongoing eligibility for increases and promotions.
Heavily subsidized medical and dental coverage for employees and dependents.
Pre-tax health, dependent care and transportation flexible spending accounts.
Competitive paid time off programs, including vacation, holidays, sick time, parental and personal leave.
Paid mission leave for local and global Habitat-sponsored service opportunities.
HFHI provided short and long-term disability coverage.
Voluntary benefits at group rates.
Position-based eligibility for alternative work schedule, e.g. flexible hours or e-work.
HFHI provided individual life insurance coverage with option to purchase more.
403(b) retirement plan allowing pre-tax employee contributions with HFHI match.
HFHI provided Employee Assistance Program coverage for employees and dependents.
Employee recognition program.
Tuition reimbursement for eligible college expenses.
Career and personal development resources.
Benefits for HFHI staff members hired locally in countries outside of the United States are similar in nature and compliant with local employment law practices.
Resume submission
Submit your resume to the pool to be considered for future career opportunities at Habitat for Humanity International.
Returning candidates: If you have previously applied for a position with us, sign in to review your information.
Connect with Habitat
About Habitat for Humanity
Habitat for Humanity, founded in 1976, is a global, Christian-based nonprofit organization that grew out of an intentionally multi-racial community in rural Georgia. Seeking to put God's love into action, Habitat brings together people of all faiths and people of no faith to build homes, communities and hope. Working alongside each other, we help families and individuals build and improve places to call home and achieve the strength, stability and self-reliance they need to build better lives for themselves. Habitat seeks individuals who have a willingness to affirm these principles and values.
Habitat for Humanity International is an equal opportunity employer and seeks to employ and assign the best qualified personnel for all our positions in a manner that does not unlawfully discriminate against any person because of race, color, religion, gender, marital status, age, national origin, physical or mental disability, sexual orientation, veteran/reserve national guard status, or any other status or characteristic protected by law.