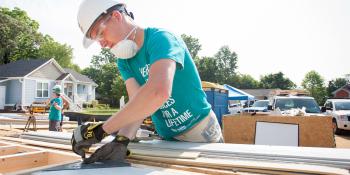 How to volunteer near you
Discover volunteer opportunities in your community
By volunteering locally with Habitat for Humanity, you can be a part of the change you want to see in your community.
We offer several opportunities to build or repair homes with families, in addition to volunteer work opportunities at your local Habitat ReStore. You can even invite your friends and family to join us.
To find Habitat for Humanity volunteer opportunities near you, enter your ZIP code or select your state below. Then use the contact information to see what opportunities are available at your local Habitat.