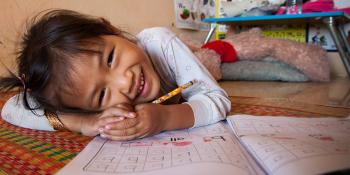 Habitat Learns
A place for learning at Habitat for Humanity.
Our vision is a world where everyone has a decent place to live. Habitat Learns furthers this vision by educating all who are interested in learning more about housing issues around the world.
In this learning portal, you will find online courses, articles and downloadable resources. The topics range from construction basics to housing finance options to tips for effectively leading a Habitat for Humanity affiliate.
With many courses offered in multiple languages, there is something for everyone on HabitatLearns. You can take these courses at your own pace and all courses are available free of charge.
To get started, create your account or login to view the list of available courses.
Additional learning resources
Frequently asked questions
What is Habitat Learns?
Habitat Learns offers online courses to orient and develop new volunteers and staff so that they can help us reach our vision of a world where everyone has a decent place to live.
Who can sign up for Habitat Learns?
Anyone – volunteers, staff, supporters and the public – can sign up to learn about Habitat's mission, what we do and how we do it.
How do I get started?
Habitat Learns is available 24/7. Go to Habitat Learns and then select "Sign up for a new account" to create an account and start learning today.
I forgot my username or password. How can I recover it?
For forgotten passwords, click the "Forgot your password?" link under the login prompt. For forgotten usernames, email [email protected] for assistance. Your login ID may be the same as the email address on the account.
I have an account on My.Habitat. Do I need to sign up for a new account on Habitat Learns?
Yes. Habitat Learns requires a separate sign-on.
Why shouldn't I create a general user account that is shared or use an account that was passed along to me from someone else?
Here are several reasons why users should have their own personal accounts on Habitat Learns:
Your activity in Habitat Learns will be tracked and saved. When you enroll in and open courses and then log out of the system, you can return to courses where you left off.
A history of courses you have completed will be available for your records.
Course completion certificates will print with your name.
Any new course that you enroll in will always be the most current version of that course.
Habitat for Humanity will be able to track actual use of courses and make decisions regarding course selection and maintenance of these courses and of the system.
Is there a cost for these courses?
No—all courses are free of charge.
What system requirements do I need to run Habitat Learns?
System requirements may vary by course. Here are the minimum requirements for each course:
Connection to the internet. While many courses may run on a 56 kbps connection, for best performance, we recommend that you use a hard-wired connection, such as LAN, Cable or DSL and not a wireless or dial-up connection. Note: Many wireless routers are 56 kbps and may be slower than a hard-wired connection.
JavaScript enabled. Search the 'Help' menu of your browser to see how to enable JavaScript.
Popup windows enabled. Search the 'Help' menu of your browser to see how to turn off the popup blocker.
Cookies enabled. Search the 'Help' menu of your browser to see how to allow or enable cookies.
Contact us
If you have additional questions about Habitat Learns, please contact us via one of the methods below.
Email: [email protected]
Mail: 
Habitat Learns
Habitat for Humanity International
285 Peachtree Center Ave NE
Suite 2700
Atlanta, GA 30303
If you have general questions about Habitat for Humanity, please send your inquiry to [email protected].