Check out our alternative school break volunteer opportunities for college students.
Apply now
Habitat's Collegiate Challenge program provides year-round alternative school break volunteer opportunities to college students across the United States.

When students volunteer with Habitat to ensure that every family has a safe and affordable place to call home, the effects can be life-changing for families with far-reaching impact on health, educational and economic outcomes and in moving society a step closer to housing equity.
Service volunteering can be equally transformative for students as they learn on the frontlines and witness their own potential for making an impact.
Students describe their experience as: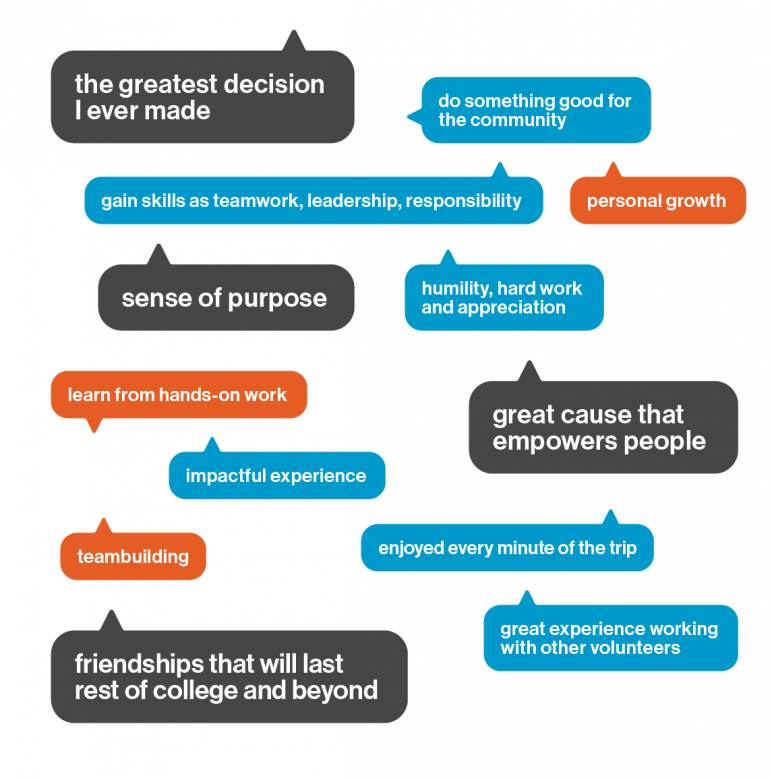 Collegiate Challenge trip applications now open
Search for available student volunteer opportunities and learn how to apply! 
You can choose to volunteer close to school or on the other side of the country. No prior experience is needed to volunteer. All you need is a few other students, ages 18 or older. So, grab some friends and apply for a Collegiate Challenge opportunity today. Then prepare for an incredible experience that you and your friends will never forget! 
As one of the longest running student volunteer programs, Collegiate Challenge is unique in offering year-round volunteer opportunities for students across the U.S. Below is our posting schedule for summer, fall and winter break opportunities.
If you have a question that is not covered in our FAQ, contact us at [email protected] or (800) 422-4828.
Schedule of opportunities
| | | |
| --- | --- | --- |
| Break period | Travel months | Date schedule posted |
| 2022 Winter break | Dec. 2022 - Feb. 2023 | Sept. 5, 2022 |
| 2023 Spring break | March 2023 - May 2023 | Oct. 3, 2022 |
| 2023 Summer break | June 2023 - Aug. 2023 | Dec. 6, 2022 |
| 2023 Fall break | Sept. 2023 - Nov. 2023 | July 18, 2023 |
| 2023 Winter break | Dec. 2023 - Feb. 2024 | Sept. 5, 2023 |
Frequently asked questions
Collegiate Challenge opportunities are available year-round to submit an application for. Please refer to the schedule of opportunities for the dates when travel months will be posted. After you apply, the local Habitat affiliate will reach out to you within two business days to complete your registration.

Note: Your team's place is not reserved until your chosen Habitat affiliate contacts you. 
Volunteers age 18 and older may participate in this program. Chaperones over the age of 25 are also welcome.
Local Habitat organizations, or affiliates, across the country host Collegiate Challenge volunteer groups for weeklong periods, typically over spring, summer and fall breaks.

Each location is unique with different group sizes based on local Habitat affiliates' needs. Habitat affiliates will provide the materials and service work for the week, while you are responsible for recruiting your group, finding accommodations and transportation to and from the site for the week.

Most groups arrive on Sunday and depart the following Saturday, but this can vary based on the Habitat location you are working with.
First, you'll need a group with a few other students.

Please check with the Habitat location to find out the minimum team size they require. 

See question "Can I participate as an individual?" for more details.

Once you have an interested group of friends, identify a team leader and your preferred travel dates. The team leader will serve as the primary point of contact for Habitat on all matters related to the volunteer trip. The team leader must be someone who is traveling on your trip.

Search the listings, select an opportunity – local Habitat and date — for your group's participation and click Apply.

This will take you to an intake form, which must be completed and submitted by the team leader on behalf of the entire group. Individual group members should not submit separate forms.

Within two business days, your selected Habitat will contact your team's leader to complete your registration. 
At this time, Collegiate Challenge is only open to groups. The minimum and maximum team sizes are set by each local Habitat organization and depend on their capacity.
The group doesn't have to be an official club or organization to participate. Ask around within your school, church, civic group or friends. You never know who might be interested, and how a trip together might strengthen your relationships!
Each group should select a team leader who is the primary contact for the group. A single point of contact — the group leader — for all communication with Habitat affiliates is important to avoid confusion and ensure alignment on all aspects of the trip. 

The team leader should submit the application on behalf of the group and should manage all follow-up communication with the local Habitat to complete registration and to help your group prepare for the trip.
Please consider the following before submitting an application to the local Habitat affiliate:

Affiliate contribution: The per-person fee required to participate. This varies by Habitat affiliate and is used to support the local project. You'll pay this fee directly to the local Habitat affiliate either before or upon arrival. Refer to the list of local Habitat affiliates and their locations for the contribution levels and payment deadlines.
Accommodations: It will be your group's logistical and financial responsibility to secure accommodations for the week unless the local Habitat organization specifically offers lodging as part of their opportunity. Please check directly with that Habitat location to find out if lodgings will be provided to you.
Transportation: Groups are responsible for their own transportation and all travel costs to and from the site, whether you are driving or flying.
Food: Groups are responsible for their own meals, food arrangements and costs unless the local Habitat organization states otherwise. Please check directly with the specific Habitat location to find out if any meals will be provided to you.
In most cases, your group will arrive on Sunday afternoon, and depart the following Saturday morning. Build activities occur Monday through Friday or Tuesday through Saturday, but the schedule varies by Habitat affiliate and location.

Projects may include building or repairing a home, assisting in a Habitat ReStore, landscaping projects or another type of assignment that helps meet Habitat's goals within that community. Some affiliates may plan an evening activity for your group, such as dinner with a Habitat partner family, but generally your evenings will be free.
Cancellation policies are set by each local Habitat affiliate. Generally, you will be required to pay a nonrefundable deposit to secure your trip dates, while the remainder of your fees are due closer to the time of the trip. However, this varies by affiliate. Make sure that you understand their policies before you confirm your trip.
Subscribe
Sign up to receive updates from the Collegiate Challenge team.
Contact us
For additional information, please contact us at [email protected]. Additional ways to contact us are listed below.
Postal mail:
Collegiate Challenge
Habitat for Humanity International
322 West Lamar St.
Americus, Georgia 31709-3543
Phone: 1 (800) HABITAT (1-800-422-4828)
Social media:
Use the #CollegiateChallenge hashtag to share your trip.