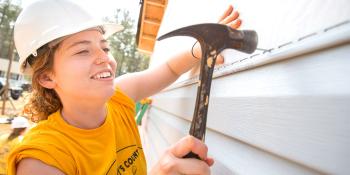 Collegiate Challenge
We offer alternative school break opportunities for students.
You can go from hitting the books to hitting nails with Collegiate Challenge. For more than 25 years, we have provided alternative school break volunteer opportunities to high school and college students.
Since our program began in the late '80s, more than 250,000 have accepted our challenge of building safe, affordable homes throughout the U.S.
We offer this unique, one-week volunteer program year-round. All you need is a group of five or more friends, ages 16 or older. Then, simply select a location you are interested in traveling to. You can choose a build close to school or at one of our other locations across the country. After you've chosen your destination, get ready for an incredible experience you and your friends will never forget.
Collegiate Challenge offers an education all its own. Whether your group is on the build site or serving in one of our ReStores, you'll be learning how decent, affordable housing builds strength, stability and self-reliance for families.
No experience is needed to volunteer. Get your friends together and sign up for a Collegiate Challenge trip today.
Are you ready to accept our challenge?
Frequently asked questions
How old do I have to be to participate in Collegiate Challenge?
If you are age 16 to 25, you may participate in this program. You must have turned 16 by the first day of the project. If you are 25 years old or older, we invite you to join us as a chaperone. If any volunteers are under the age of 18, at least one chaperone must be present for every five students. Please note that if you are under 18, you cannot operate power tools or work more than six feet off the ground.
Can I come as an individual?
At this time, Collegiate Challenge is only open to groups of five or more. Your group doesn't have to be an official club or organization to participate, however. We encourage you to ask around your school, church, civic group or friends. You never know who might be interested, and how a trip together might deepen your relationships.
What type of housing is provided?
Our host sites will provide you with a safe place for sleeping, showering and preparing meals at no additional cost. This usually includes church floors or volunteer centers, so everyone in your group should bring a sleeping bag. Additionally, please keep in mind that your shower and kitchen facilities could be separate from your sleeping facility.
What does a typical week look like?
Typically, you'll arrive at the host facility on Sunday afternoon, and depart the following Saturday morning. Most of our builds occur Monday through Friday or Tuesday through Saturday. You should expect to work from about 8 a.m. to 5 p.m. each day. Our projects may include building a new home, repairing an existing home, or another type of assignment that helps meet our goals within the community. Some of our hosts may plan an evening activity for your group, such as dinner with a Habitat family, but generally your evenings will be free.
Our participants guide contains helpful hints for you on fundraising, site logistics and reflections.
Team leaders can use our team leader guide and expectations guide to help you organize your trip and make sure it's a success. You can also complete our optional trip information form, which team leaders can give to parents and guardians of participants as a resource during your trip.
Are there any fees involved?
When you are making plans to participate, please consider the following:
Program fee: $30. Our program fee covers supplemental medical insurance and program costs. Your payment is non-refundable and non-transferable, and due within one month of your registration. Your check can be made payable to Habitat for Humanity International and mailed to the Collegiate Challenge program team: Collegiate Challenge, Habitat for Humanity International, 121 Habitat St., Americus, GA 31709-3498.
Host site contribution: Your donation is used to support the local project in buying items like building materials. This amount will vary by location. Please refer to our site list for details.
Transportation: Whether you are driving or flying, your group will be responsible for your own transportation, and costs to and from your site.
Food: Your group will be responsible for your own meals. Although, your accommodations will include a place for you to prepare them. We recommend budgeting $6-10 per person per day for homemade meals, and more if you plan to eat out.
What does trip insurance cover?
Part of your $30 program fee is applied to supplemental accidental medical insurance. Our policy will pay the deductible of your own insurance, as well as any costs exceeding your insurance limit, up to $250,000. If you do not have personal health insurance, you will be covered up to $250,000. Our insurance covers all participants who have an accident while participating in group activities, including building on-site and host-sponsored evening activities.
Your team roster form is necessary for insurance validation. We need team leaders to complete a separate team roster for each team you are sending at least one month prior to your trip.
What is your cancellation policy?
Once you pay the program fee, your group has committed to your trip for the number of spaces confirmed. Our host locations then begin buying materials and making preparations. A significant decrease in attendance or canceling a trip may negatively impact the families we are helping and the hosts' building schedule.
Because of this, we are unable to refund or transfer your program fees. Any host site contributions must still be paid, even if someone is no longer able to participate.
To ensure the best experience for your group, the host team and our future Habitat homeowner, please make sure your group can attend before you pay your program fee. Additionally, if your group registers, but does not pay the program fees within one month, we will need to cancel your registration.
If my host location has its own waiver, do I need to fill out a second Habitat general waiver?
Yes, even if your host location has a waiver, you will also need to fill out our waiver for the main Habitat organization. We will need these forms completed by all participants.
For participants under the age of 18, team leaders should collect and return these forms by mail or fax at least one month before your trip's start date. Participants over the age of 18 can now sign our waiver electronically.
In addition, each participant should complete an emergency contact form and give it to the team leader to keep on hand during the trip, in case of an accident or emergency.
Contact us
Email: colchal@habitat.org
Phone: 1-800-422-4828, ext. 2215
Fax: 229-410-7443
Mail:
Collegiate Challenge
Habitat for Humanity International
121 Habitat St.
Americus, GA 31709-3498
Social media
Use our #CollegiateChallenge hashtag to share your trip.
Youth Programs e-newsletter
Stay in touch with all the latest Habitat for Humanity news and volunteer opportunities for youth. Sign up for our e-newsletter today.