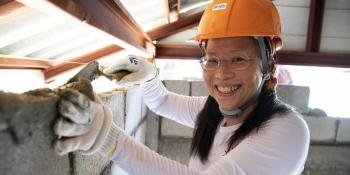 Habitat and Thrivent Worldwide
For nearly two decades, Habitat for Humanity and Thrivent have partnered with families around the world in need of decent, affordable homes. Habitat and Thrivent volunteers have traveled across the globe to build homes and communities that provide stability for millions of families.
About the Habitat for Humanity and Thrivent partnership
The Habitat for Humanity and Thrivent partnership began in 2005. Thrivent and its clients have contributed more than $282 million and nearly 850,000 volunteers have donated their time to Habitat.
For over a century, Thrivent has helped people make the most of all they have been given. A holistic financial services organization, Thrivent provides financial advice, investments, insurance, banking and generosity programs to help our 2 million clients through life's financial journeys.
For additional information about the partnership, visit the Habitat and Thrivent partnership website.
Habitat and Thrivent Worldwide
Volunteering on a Habitat and Thrivent build is truly a life-changing experience. Through the partnership, volunteers enable families to have a safe, secure and affordable home. Volunteers are immersed in different cultures, garner new experiences and develop lifelong relationships with people across the world. They leave the build enriched and full of purpose. Seize this extraordinary opportunity to be part of a cause that transcends borders and makes a lasting impact.
Join us for an exhilarating adventure that combines compassion and action. Our focus is on domestic disaster recovery locations across the USA while international builds are temporarily on hold.
For one week, volunteers build alongside families in need of affordable housing while experiencing a community impacted by a disaster. No special skills are required. All you need is a generous heart and a desire to make a difference. It's not just about constructing houses; it's about rebuilding lives and restoring faith in the face of adversity.
Thrivent's contributions help offset program costs, making participation more affordable for all participants. In addition, Thrivent clients with a benefit membership receive special pricing.
If you have questions, contact the Habitat and Thrivent Worldwide team at [email protected].