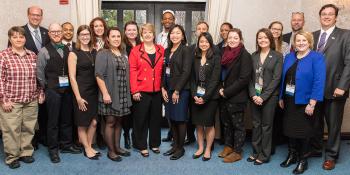 Community organizations
Become a Habitat for Humanity community partner.
Thank you for considering a local community partnership with Habitat. Our work in your local community and also throughout the world exponentially increases through trusted community partners like you. Building safe, affordable homes literally takes a village, and we would love to have you join our vital work because everyone deserves a decent place to call home.
We invite your community organization to become a partner with Habitat in working toward our mission.
And we consider our partnerships to be just that—partnerships. We want you to be proud of the work we do together. And whether you want to invest in your own neighborhood, or want to extend your global reach, we have both large and small opportunities to ensure that a difference is made, and that your donation is put to the best possible use.
Below are just a few ways to partner with Habitat. There is much work to be done, and no matter the size of your organization, we're certain that there is something you can contribute to the Habitat vision.
Coordinating efforts on a local level is a great way to start. There are people not far from you right now who need a helping hand, and our local Habitat for Humanity organizations work all year long to assist them. Every single one of the thousands of homes we build each year requires supplies, financial donations and volunteers to get built. There is definitely a gap for you to fill and feel valued. However, if you are a national or international organization with offices all across the U.S. or the world, Habitat is still a great option for your regional hubs because Habitat also works across the country and around the world. Whatever you decide, we have ample opportunities, and a desire to see everyone involved come out a winner.
Ways to partner
Product donations
Financial support
Volunteer engagement
Grants and awards programs
And, as a business, we understand that you want to know what's in it for you. It's only natural. Just like us, you have responsibilities, and are accountable to others. So, here are a few reasons why you should consider a Habitat partnership.
Benefits of partnering
Recognition
Co-branding
Increased group morale
For a list of just a few of our community partners, please visit our Community Partnerships page.
Are you ready to see what great things we could do together? With your organization's support, we can help build a world of strength, stability and self-reliance through shelter.
For additional information, please contact [email protected].