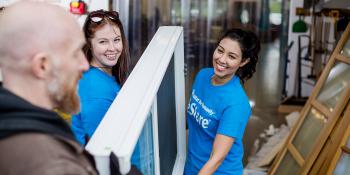 Donate goods to Habitat ReStore
Habitat ReStores are home improvement stores that accept small and large donations of new or gently used furniture, appliances, housewares, building materials and more. Proceeds from the sales of these items help Habitat's work in your community and around the world.
Enter your ZIP code to find the Habitat ReStore nearest you.
How do you donate goods to Habitat ReStore?
Habitat ReStore staff and volunteers make the donation process as simple as possible. You can always donate goods in person, and many Habitat ReStores offer free pickup of large items. Here's how the process works.
Note that it is important to call your ReStore and confirm donation hours, which can differ from store hours.
Find the Habitat ReStore location nearest you by entering your ZIP code in the search box above.
Contact the nearest Habitat ReStore to let them know what items you have available to donate.
Determine the best method for you to donate your items.
What can you donate to ReStore?
Habitat ReStore accepts new and gently used appliances, furniture, building materials, household goods and more from individuals and companies. Each ReStore is unique, and many locations also accept items outside these categories. 
How does donating to ReStore help families?
The money raised by Habitat ReStores helps families build a decent and affordable place to call home. When the items you donate to ReStore are sold, the money helps families achieve the strength, stability and independence they need to build a better future.
Need to donate stuff?
Remodeling, cleaning, down-sizing or just getting organized? Whatever your project, don't let the items you no longer need end up in your local landfill.
Habitat ReStores divert hundreds of tons from landfills each year, accepting hard-to-dispose-of items including new and used furniture, appliances and surplus building materials. In many cases, pickup service is provided for large items.
Best of all, proceeds from the sale of these donated goods help families build a foundation for the future.
Interested in donating to Habitat ReStore as a corporate partner?
Our corporate partnerships help make our work at Habitat possible, and we offer partnership opportunities for corporations wishing to donate overstock materials and participate in recurring donation programs. We have coordinated donations from nationwide restaurant chains, hotels, going out of business events and more.
Email our donated products team for more information. You also can learn more on Habitat for Humanity's gifts-in-kind donations page.
More ways to donate
Head over to the support page to learn about more ways to donate to Habitat for Humanity.
Subscribe
Get the latest Habitat news, volunteer opportunities, DIY tips and more ways to get involved.