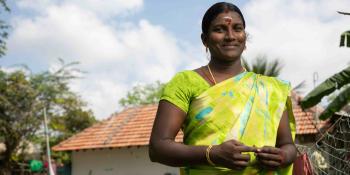 Terwilliger Center for Innovation in Shelter
Building and expanding inclusive housing markets
An estimated 1.6 billion people are living in inadequate shelter globally – a crisis that has been exacerbated by a lack of attention to, and investment in, informal housing markets.
For low-income families in the countries where Habitat works, housing is often a process, not a purchase. Families build and upgrade their homes bit-by-bit as finances allow. This incremental construction process can last decades, causing a significant and detrimental impact on the quality and resilience of their homes.
Building inclusive housing markets through innovation
The Terwilliger Center for Innovation in Shelter, a unit of Habitat for Humanity International, works to expand low-income families' access innovative housing products, services and financing.
We work with actors throughout the housing ecosystem, including:
Financial institutions.

Manufacturers and retailers.

Academic and vocational institutions,

Public sector agencies.

Civil society organizations.

Contractors and designers.

Media companies.
In collaboration with these partners, the Terwilliger Center identifies disruptive technologies, develops innovative models and works to move new solutions along the catalytic path.
Since launching, Habitat's Terwilliger Center has helped over 27.8 million people access improved housing solutions; worked with over 100 financial institutions to unlock US$7.9 billion in affordable housing; and catalyzed US$64 million in new business for firms serving low-income segment. Learn more about how the Terwilliger Center is driving impact at scale.
Our ethos
From its origins, Habitat for Humanity has focused on bridging divisions, particularly those involving race and income. Habitat carries forward this spirit of outreach within our market development work, seeking to use for-profit motives as a force for social good and inclusion.
We don't just work to increase the size or efficiency of markets — within the margins of profitability, we also challenge markets to seek clients with limited resources to connect them with the tools they need to build safe, decent homes.
Our guiding principles:
Strive for scale to reach many families.

Ensure solutions are sustainable.

Focus on private-sector incentives.

Avoid market distortion.

Act as a facilitator.

Emphasize sustainability.
About Ron Terwilliger
Ron Terwilliger is chairman emeritus of Trammell Crow Residential, the largest developer of multifamily housing in the U.S. for several decades during Ron's tenure as CEO. He currently chairs Habitat's Global Development Council, serves as chairman emeritus of the organization's board of directors, and chairs the Terwilliger Center Advisory Board.
Ron made a $100 million legacy gift to Habitat — the largest donation from an individual in Habitat's history. From his legacy gift, a $30 million commitment went to creating the Terwilliger Center for Innovation in Shelter to bring market-based solutions to low-income families worldwide to improve their housing conditions.
Contact us
Habitat for Humanity International
Terwilliger Center for Innovation in Shelter
285 Peachtree Center Ave NE
Suite 2700
Atlanta, GA 30307
USA
Email: [email protected]
Phone: 1-800-HABITAT (1-800-422-4828) or 1-229-924-6935