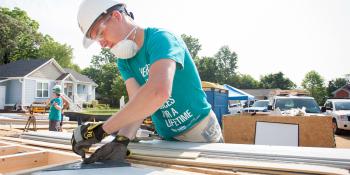 U.S. Long-term Volunteer Program
Thank you for your interest in long-term volunteer opportunities with Habitat's headquarters offices in the United States.
Perhaps you're looking for nonprofit experience. Or maybe you want to see behind-the-scenes of an international organization. It's also possible that you just want to put your skills to work for a greater purpose. Whatever your reason, we look forward to having you assist us in furthering our mission of building safe, affordable housing.
Our long-term U.S. headquarters volunteer opportunities vary based on the current needs, but in the past, we have utilized business skills such as social media advisor, grant writer, volunteer coordinator, Global Village assistant, research assistant, communications specialist, program or resource development specialist, as well as other administrative roles.
As you can see, it takes a variety of backgrounds working together to create transformational change in neighborhoods. Strengthening communities is a challenging, but rewarding task. The work you do could make a difference for families in your hometown and around the world.
Search for our headquarters volunteer opportunities today.
Frequently asked questions
Who can apply to be a U.S. long-term volunteer?
You must be at least 18 years of age to qualify. You'll also need to be flexible and able to pitch in where needed. Other than that, we are looking for skills that match the position available.
Where are these volunteer positions available?
These assignments usually take place in either the operational Habitat headquarters in Americus, Georgia, or in our administrative headquarters in Atlanta. A few positions may be virtual, and therefore, available to work from anywhere.
How long are volunteer assignments?
The minimum length for an assignment is one month, but can vary greatly depending on your availability and the position.