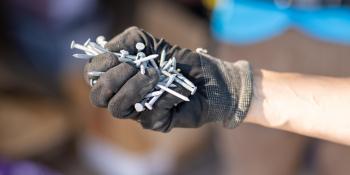 We know that when you take the time to give, you want simple and convenient options.
To accommodate this request, Habitat partners with employers all over the U.S. to allow their employees the option of giving through the workplace. 
Regular contributions from hardworking employees and their employers make a big impact over time by helping families build strength, stability and self-reliance through shelter.
Make a donation and double your impact with your employer's matching gift
Many employers will match tax-deductible charitable contributions made by their employees, retirees and employees' spouses.
On our matching gift page, you can use our search tool to see if your employer participates and find instructions for how to have your gift matched.
For more information, visit our Employer matching gifts FAQ.
Employers can join Habitat's workplace giving program
The Gift that Builds is an opportunity for companies and their employees to get hands-on with their support for Habitat. This can be through volunteerism, donations and advocacy.
Whether you want to start a new campaign or add Habitat to your company's existing campaign, contact the Gift that Builds team at [email protected] to learn more about the tools you need and options for different levels of involvement.
Join an existing workplace giving campaign
Each year thousands of employees are given the opportunity to direct a portion of their paycheck to the charities of their choice through workplace giving campaigns. You can help us serve more families in need of safe, affordable housing by directing your workplace contribution to Habitat. 
Contact your employer to find out how to get involved in workplace giving or find out if your employer matches gifts to Habitat for Humanity.
Additionally, below is a list of giving campaigns that allow you to designate Habitat for Humanity as the recipient of your workplace contribution:
Federal employees
Write Habitat for Humanity on your pledge card and use our CFC number: 10945.
State and local government employees
Over 100 state and local workplace campaigns currently participate, so check to see if we are listed.
United Way workplace campaigns
Habitat for Humanity International participates in several national United Way workplace campaigns, including those in San Francisco, Allegheny County (Pittsburgh area) and the National Capital Area Campaign in Washington, D.C. If your local United Way campaigns do not list Habitat, you can write us in as a designation on the pledge card along with our address: 322 West Lamar Street, Americus, Georgia 31709-3543 USA.
Contact us
For questions or additional information about workplace giving, please email [email protected]. For matching gifts, please contact [email protected].