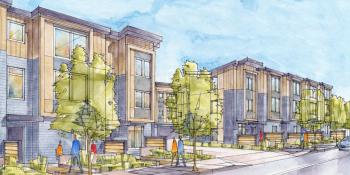 Habitat Mortgage Solutions
Through Habitat Mortgage Solutions, Habitat helps our U.S. affiliates build homes and provide affordable mortgages. Habitat Mortgage Solutions creates and provides financial services and capital that enable equitable homeownership opportunities and affordable housing solutions for underserved people. By helping to remove barriers to homeownership, Habitat Mortgage Solutions helps foster vibrant and diverse communities.  
The need
The need for affordable homeownership only continues to grow. Though Habitat for Humanity International provided lending support to affiliates for years prior, we officially established Habitat Mortgage Solutions in 2017 as a community development financial institution to address critical barriers, including:
The rising cost of land and construction.

Increased regulatory complexity of mortgage lending.
Our approach
Habitat Mortgage Solutions supports Habitat affiliates' work as affordable-mortgage lenders, homebuilders, sellers and partners for housing and community solutions. We serve a network of independently operated Habitat affiliates working in communities across all 50 U.S. states, Washington, D.C., and Puerto Rico.
Habitat Mortgage Solutions' work:
Provides low-cost, flexible capital to support affiliates' work as nonprofit real estate developers and homebuilders.

Supports the development of affordable mortgage financing and secondary market options.

Helps affiliates produce and offer more compliant, higher-quality mortgages.

Increases our affiliates' ability to serve more households.
Habitat Mortgage Solutions comprises two primary lines of business: our mortgage origination platform and our commercial lending and mortgage financing.
Mortgage origination platform
Our mortgage origination platform supports Habitat affiliates in their work as residential mortgage lenders by assisting with the processing, underwriting and closing functions of the mortgage origination process. The platform's technology — combined with access to seasoned, licensed mortgage professionals — provides affiliates an efficient, low-cost solution to produce higher quality mortgages for low- and moderate-income families and underserved communities.
Commercial lending and mortgage financing
We extend short-, medium- and long-term capital, allowing Habitat affiliates to acquire land, finance home construction, and partner with communities to build or preserve affordable housing and community facilities.
We offer several types of products, including:
Predevelopment loans.

Acquisitions loans.

Construction loans.

Mini-perm loans.

Bridge loans.

Working capital.

New market tax credits.
In addition, we work to provide permanent financing through programs that enable third-party financing, mortgage loan securitization and sale.
Our impact
For more than 20 years, Habitat for Humanity International, through Habitat Mortgage Solutions and related entities, has provided more than 820 loans to more than 350+ Habitat affiliates awarding more than US$400 million in loans, supporting more than 15,000 households achieving affordable homeownership.
Our successful partnerships
Below are examples of successful loans we have provided:
Habitat Mortgage Solutions and Austin Habitat closed a US$1.85 million loan to support the acquisition of 30 home sites from a national market-rate developer at a discounted rate. These lots, located in East Austin, will be developed into affordable homes for low- and moderate-income families. By the end of 2024, twenty-three of the units will become single-family homes, and seven others will become condominium-style units. These residences will increase affordable housing stock amid the city's housing crisis.
Habitat Mortgage Solutions and Chipola Area Habitat closed a US$400,000 loan to fund the infrastructure work related to the affiliate's seven-home Gillis Ridge Subdivision. When completed in 2025, this subdivision will be the first single-family subdivision to be constructed in the City of Marianna in more than 20 years. Chipola Area Habitat also has partnered with the City of Marianna, which provided additional funds to support the infrastructure work in getting this project off the ground.
Habitat Mortgage Solutions and Habitat Lincoln closed a US$300,000 loan to finance the start-up costs required to open its second Habitat ReStore location. The loan covered most of the estimated hard costs, including renovations, updates, equipment and pre-opening operating expenses. The second Habitat Lincoln ReStore will provide the needed space to maximize future sales.
Habitat Mortgage Solutions and Habitat McLean County closed a US$200,000 loan to provide critical project financing to build two new homes in Bloomington. Without Habitat Mortgage Solution financing, the construction would have been severely delayed due to COVID-19. The loan has also catalyzed a broader strategic plan to accelerate the affiliate's annual home production.
Habitat Mortgage Solutions and Habitat New York City and Westchester County closed on a US$2.1 million transaction to support the development of the Sydney House in the Bronx. The 7-story, 56-unit affordable cooperative will be home to low- to moderate-income families and allow more families to live in the community where they work, helping to combat issues of rapid gentrification in the area. 
Habitat Mortgage Solutions and Habitat Portland Region closed on a US$2 million transaction to support the development of 40 affordable townhomes by 2023. The loan provides Habitat Portland Region the flexibility to recycle cash flow from unit sales back into this and other affordable housing projects. All the homes in this project will be permanently affordable, allowing homeowners to build equity while ensuring the homes remain affordable for the next homebuyer.