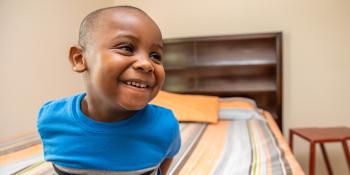 At-home volunteering activities for kids
During this uncertain time, many of us are seeing firsthand how critical a decent, affordable home is for a family.
Spread the word and show your support for Habitat for Humanity's mission to make housing affordable by embarking on some of these family-friendly activities.
Build-a-stat stencils
Take your sidewalk decorating to the next level. Habitat for Humanity's build-a-stat stencils are a great way to raise awareness about housing inequality at this crucial moment when the public is seeing firsthand the difference that a stable, healthy home can have in our lives. For too many people, sheltering in place is a challenge. We want to raise the profile of those struggling to stay safe, stay healthy and pay their rent or mortgage.
Through our Cost of Home advocacy campaign, Habitat is working to increase safe, healthy affordable housing for all Americans. Help us raise awareness and let your community and elected officials know how important affordable housing is.
The figures in our stencils are meant to help you share stats about housing. You can use them en masse to visualize a large statistic or you could use just a few to show a percentage. Think outside the stencils to add phrases, symbols and hashtags to increase your impact.
Just print the build-a-stat stencils and cut out the black area to create your stencils. Then use your creativity to share your housing knowledge. Snap a photo of your artwork, and post on social media. Tag your elected official and @costofhome.
Example tweet: You can't shelter in place if you don't have a safe and affordable place to stay. @yourrep, help make @costofhome something we all can afford. [Attach your picture.]
Stat examples:
1 in 6 households shouldn't spend half their pay on a place to live.
1 in 3 households shouldn't be cost burdened by their place to live.
13 million Americans won't be able to pay their rent this month.
Paper houses
We're seeing firsthand the importance of having a safe, affordable healthy home. Imagine having to shelter in place without that kind of a shelter. Start a discussion with your kids about home and what home means to them. While you do, have your kids create their own paper houses.
Print our template and use it as a starting point for kids to color and decorate their very own house. Then have your children write messages on the houses about what home means to them. But don't stop there — after completing your house, share it! Take a picture, post it to social media, and tag an elected official and @costofhome to let everyone know how important housing is to you.
Many Americans are struggling to pay for housing during this pandemic. The need for safe, healthy, affordable housing has only become even more urgent during this time.
Habitat is taking this challenge head on with our Cost of Home advocacy campaign. Across the U.S., Habitat is advocating for policies that protect and strengthen neighborhoods and enable communities to thrive so that the cost of home is something we all can afford. Your tweet helps us raise public awareness of these important issues.
Example tweet: With millions of people filing for unemployment at some point during the pandemic, it's critical that we work to provide stability for families and individual across the county. @yourrep, help make the @costofhome something we all can afford. [Attach your paper house picture.]
Community walking bingo
Habitat for Humanity is known for building houses in partnership with families in need of a decent, affordable home. We also work hard to strengthen communities worldwide. We want to help you identify strengths in your own community. This family-friendly game of bingo allows you to get outside, get some exercise and see your community though a new lens. 
When Habitat evaluates potential partner communities, we research the neighborhood's sense of community, willingness to work together and its ability to sustain ongoing projects and advocacy efforts. Within each partner neighborhood Habitat evaluates seven categories:
Amenities
Economic opportunities
Education
Health
Housing
Safety
Transportation
We bet you can find some of these important components of a strong community in your neighborhood. Do a mini community evaluation, based on the same principles that inform the ones that Habitat performs, with this fun game of bingo.
Walk through your community looking for the items listed on your bingo card.
Take your card to the next level by supporting Habitat's advocacy work.
Once you have a row complete, post a picture on social media and share your thoughts about the importance of housing and of keeping communities strong.
Through Habitat's Cost of Home advocacy campaign, we are committed to improving home affordability through policy and systems change at levels of government. We know that having an affordable home also means having a strong community and access to resources wherever you live, work and grow. One of the key aspects of our campaign is to advocate for policies that protect and strengthen neighborhoods and enable communities to thrive. Join us today!
Resources created with the support of State Farm