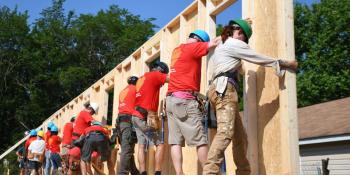 Wells Fargo volunteers lend their hands and hearts at the Carter Work Project
More than 104,000 volunteers in 14 countries have helped families around the world build or improve the place they call home through Habitat for Humanity's Jimmy & Rosalynn Carter Work Project. This year, more than 175 volunteers from US$1 million sponsor Wells Fargo will add to that number in Charlotte, North Carolina, lending their hands and hearts to work alongside families as they build their new homes with Habitat Charlotte Region.
"This is such a monumental event that's bringing the community together," says Jim Early, director of asset management for commercial mortgage servicing at Wells Fargo. "It's my first time attending the Carter Work Project, and I am super excited. I plan on helping all week."
Though it will be Jim's first time at a Carter Work Project, he's no stranger to a build site. As a Wells Fargo employee, Jim has volunteered alongside Habitat homeowners for nearly 18 years. "When you volunteer at Habitat, you see the fruits of your labor whether you're framing, putting up a roof or drywall, or hanging siding. You see what you've done at the end of the day. It's a good kind of tired," says Jim, who currently also serves on Habitat Charlotte Region's development committee.
The 27 homes built during the Carter Work Project will add needed affordable housing to Charlotte. Rodrick Banks, Wells Fargo community relations leader, says the city has seen "significant growth," which has led to affordability challenges in the housing market. "The cost of homes has risen, as it has in other markets across the country," Rodrick says. "A lot of people, particularly those that are lower to moderate income, are finding themselves in a situation where there isn't a lot of housing stock, and the stock that is there isn't affordable."
As a Habitat for Humanity partner for 30 years, Wells Fargo has helped open pathways to affordable homeownership for people and families globally and especially in Charlotte. "Charlotte is the largest employee base for the company worldwide," Rodrick says. "Because of that we want our time and talent to be invested in the communities where our employees live and work."
Wells Fargo and the Wells Fargo Foundation have donated more than US$129 million to Habitat for Humanity International and local affiliates since 2010, including support for new home construction and repairs, helping older adults age in their homes, and neighborhood revitalization and disaster response efforts.
As a local employee and longtime Habitat volunteer, Jim is thrilled to be a part of the event and can't wait to see the large-scale affordable housing Meadows at Plato Price neighborhood take shape. "This is a really interesting and exciting project," he says. "Habitat Charlotte Region acquired the land from the city and is installing roads, sewer and water. So it's a true development. It's not building one home here or a handful of homes in a particular area. We're building a neighborhood, so from a scale standpoint – that is exciting for me."
Rodrick is also looking forward to volunteering during the event. "It is important for Wells Fargo to participate because of the value we place on the relationship we have with Habitat, and we respect former President Carter and Mrs. Carter for their passion and their work over a number of years all throughout the world," says Rodrick. "And having an impact on housing affordability and ensuring everyone has a safe and decent place to live is a priority for us."