Prologis and Habitat for Humanity partner during global day of service
ATLANTA and SAN FRANCISCO (May 18, 2017) – Prologis, Inc. today announced a new global partnership with Habitat for Humanity that will kick off on the company's annual global day of service, IMPACT Day.
With a donation of more than $190,000 to Habitat, Prologis employees will volunteer on May 19 in more than 20 communities around the world with several Habitat projects that include neighborhood revitalization and construction.
"Strong and stable homes help build strong and stable communities," said Prologis Vice President of Sustainability Jeannie Renne-Malone. "Prologis is proud to support this organization which shares many of the same environmental stewardship and social responsibility values that we hold in high regard. We look forward to working together with Habitat homebuyers to build strength, stability and self-reliance through shelter."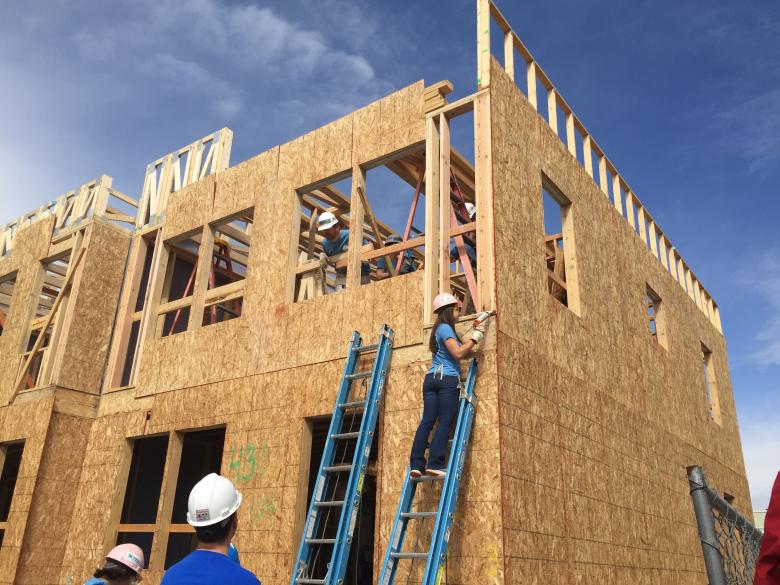 More than 1,600 Prologis employees will volunteer with more than 60 nonprofits in more than 60 cities around the world during the company's fifth IMPACT Day. Prologis partners with organizations that operate in the company's focus areas of education, human welfare and the environment on its annual day of service and throughout the year.
"We are grateful to partner with Prologis on this initiative that will bring so many of their employees together to help families and communities improve a place they can call home," said Colleen Finn Ridenhour, senior vice president of Development at Habitat for Humanity International. "Their efforts will have a lasting impact in so many communities."
Prologis employees will volunteer with Habitat in 23 locations throughout the U.S., Japan, Poland, Hungary, the U.K., Mexico and Canada.
About Habitat for Humanity
Driven by the vision that everyone needs a decent place to live, Habitat for Humanity began in 1976 as a grassroots effort on a community farm in southern Georgia. The Christian housing organization has since grown to become a leading global nonprofit working in more than 1,300 communities throughout the U.S. and in more than 70 countries. Families and individuals in need of a hand up partner with Habitat for Humanity to build or improve a place they can call home. Habitat homeowners help build their own homes alongside volunteers and pay an affordable mortgage. Through financial support, volunteering or adding a voice to support affordable housing, everyone can help families achieve the strength, stability and self-reliance they need to build better lives for themselves. Through shelter, we empower. To learn more, visit habitat.org.
About Prologis
Prologis, Inc. is the global leader in logistics real estate with a focus on high-barrier, high-growth markets. As of March 31, 2017, the company owned or had investments in, on a wholly owned basis or through co-investment ventures, properties and development projects expected to total approximately 678 million square feet or 63 million square meters in 19 countries. Prologis leases modern distribution facilities to a diverse base of approximately 5,200 customers across two major categories: business-to-business and retail/online fulfillment.