Habitat for Humanity International welcomes Pamela Hughes Patenaude to board of directors
ATLANTA (June 21, 2019) — Habitat for Humanity International is pleased to announce that Pamela Hughes Patenaude, former deputy secretary of the U.S. Department of Housing and Urban Development, has agreed to join to its board of directors.
Patenaude has served in the housing sector for more than 35 years and brings a wealth of knowledge in public policy, economic development and disaster recovery to her new role on the board.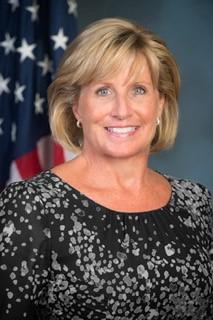 "Throughout my housing career, I have grown to deeply respect and value Habitat for Humanity's commitment to building a world where everyone has a decent place to live," Patenaude said. "I am excited to contribute to that legacy by collaborating with my colleagues on the board to create innovative and sustainable housing solutions in the U.S. and around the world."
Patenaude is a senior community liaison for IEM, a global homeland security and disaster management consulting firm, and oversees the firm's housing projects. During her previous service as deputy secretary of the Department of Housing and Urban Development, Patenaude served as the chair of the department's disaster management group and was responsible for $37 billion in funding for disaster recovery efforts. Patenaude's previous positions include president of the J. Ronald Terwilliger Foundation for Housing America's Families, director of housing policy at the Bipartisan Policy Center, and executive vice president of the Urban Land Institute.
"Pam has long been an advocate for Habitat and our mission, and I am thrilled to welcome her to our board of directors," said Jonathan Reckford, CEO of Habitat for Humanity International. "Pam's knowledge of housing policy and her expertise in disaster recovery will be of immeasurable value in our work."
Patenaude began her extensive career in housing and community development while serving at the New Hampshire Housing Finance Authority. She holds a bachelor of science degree from Saint Anselm College and holds a master of science degree in community economic development from Southern New Hampshire University.
Habitat's board of directors is responsible for establishing policy and guiding the organization's efforts to build or improve affordable housing in partnership with families across the United States and in more than 70 countries around the world. Habitat board members serve for two-year terms that can be renewed up to four times.
About Habitat for Humanity
Driven by the vision that everyone needs a decent place to live, Habitat for Humanity began in 1976 as a grassroots effort on a community farm in southern Georgia. The Christian housing organization has since grown to become a leading global nonprofit working in local communities across all 50 states in the U.S. and in more than 70 countries. Families and individuals in need of a hand up partner with Habitat for Humanity to build or improve a place they can call home. Habitat homeowners help build their own homes alongside volunteers and pay an affordable mortgage. Through financial support, volunteering or adding a voice to support affordable housing, everyone can help families achieve the strength, stability and self-reliance they need to build better lives for themselves. Through shelter, we empower. To learn more, visit habitat.org.