Habitat for Humanity International announces appointment of Amy Dunham as chief communications officer
ATLANTA (Oct. 14, 2021) — Seasoned communications leader Amy Dunham will serve as the senior executive in charge of communications at Habitat for Humanity International, the largest global housing nonprofit, the organization announced today. Dunham, who currently serves as senior vice president for marketing and communications at Strada Education Network, will relocate to Atlanta and assume this leadership role in January.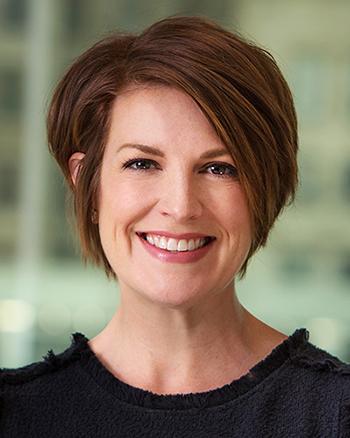 As chief communications officer, Dunham will lead a global team of 80 tasked with stewarding Habitat for Humanity's brand across multiple channels and coordinating Habitat's story among local Habitat for Humanity organizations in all 50 states and more than 70 countries. Dunham will also serve as a member of the organization's senior management group which advises the CEO and sets strategy and policy for the ministry.
"Amy has both the heart for Habitat's mission and a passion for communications that make her our ideal candidate to serve in this vital leadership role," said Jonathan T.M. Reckford, CEO of Habitat for Humanity International. "Amy will be a trusted advisor and key leader in our efforts to grow global awareness of Habitat's mission as we implement our ambitious and complex strategic priorities to serve more families and expand our impact."
Dunham brings a wealth of experience from a 20-year career in the nonprofit, private and public sectors. Prior to her work with Strada, she served in senior communications roles for the National Collegiate Athletic Association, the U.S. Department of Homeland Security and US Airways. Dunham holds a degree from Wake Forest University and currently serves as a member of the Wake Forest College Board of Visitors.
"From my opportunities to volunteer with Habitat for Humanity, I have seen the real impact this organization has on people's lives," Dunham said. "I am awed by the growth of this organization, from its humble origins to a global force tackling one of the most important issues facing people around the world. I am eager to join Habitat's impressive team of communicators and work with them to tell Habitat's powerful story."
Dunham succeeds Chris Clarke, who retired in August after serving with Habitat for nearly 20 years.
About Habitat for Humanity
Driven by the vision that everyone needs a decent place to live, Habitat for Humanity found its earliest inspirations as a grassroots movement on an interracial community farm in south Georgia. Since its founding in 1976, the Christian housing organization has since grown to become a leading global nonprofit working in local communities across all 50 states in the U.S. and in more than 70 countries. Families and individuals in need of a hand up partner with Habitat for Humanity to build or improve a place they can call home. Habitat homeowners help build their own homes alongside volunteers and pay an affordable mortgage. Through financial support, volunteering or adding a voice to support affordable housing, everyone can help families achieve the strength, stability and self-reliance they need to build better lives for themselves. Through shelter, we empower. To learn more, visit habitat.org.