Johnson Controls Foundation announces donation to Habitat for Humanity International supporting safe, sustainable and affordable homes for families
Johnson Controls Foundation's $750,000 donation supports Habitat's mission of building homes, communities and hope around the world
MILWAUKEE (Aug. 28, 2023) — Johnson Controls (NYSE: JCI) today announced a $750,000 donation through the Johnson Controls Foundation to Habitat for Humanity International to support its mission to build homes, communities and hope in partnership with families in need of decent and affordable housing.
"We have a long history of Johnson Controls' employees volunteering with Habitat for Humanity across the globe," said George Oliver, chairman and CEO of Johnson Controls. "We are passionate about building healthier, smarter and more sustainable communities, and are proud to help Habitat develop resilient, energy-efficient, accessible and safe homes with families. Thanks to Habitat for Humanity International, we are advancing our mission to make a local impact with global outreach."
Johnson Controls' 140-year commitment to creating a smarter, healthier and more sustainable future aligns with Habitat for Humanity International's important work in communities around the world. Recently, Johnson Controls announced a $550,000 donation to Milwaukee Habitat for Humanity, which included a grant from the Johnson Controls Foundation and in-kind donations of Johnson Controls products that will supply 90 new homes being built in partnership with local families. As part of the announcement, more than 30 Johnson Controls employees volunteered on-site with Milwaukee Habitat for Humanity.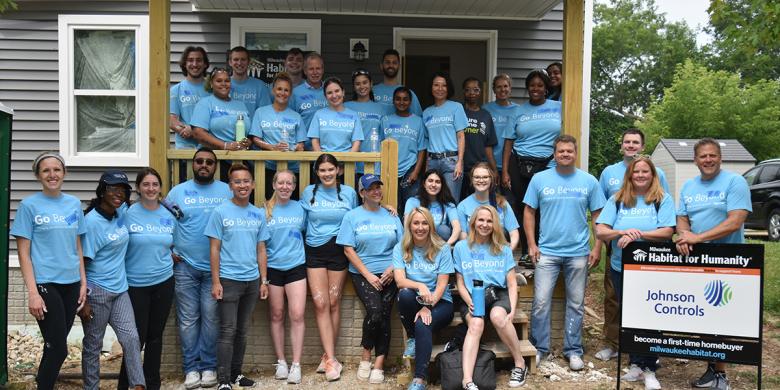 This donation will also support longer term planning and Habitat efforts over several years, including Habitat's mission and programs such as Habitat Strong, which helps local Habitat affiliates across the United States build stronger, more disaster-resilient housing, and the Terwilliger Center for Innovation in Shelter, which works to build inclusive housing markets that better address the needs of low-income families.
"The need for affordable housing is urgent and continues to grow at an exponential rate," said Tolli Love, chief development officer at Habitat for Humanity International. "This generous donation from Johnson Controls will enable us to further our efforts to build sustainable, resilient and stable communities around the world. We are grateful to Johnson Controls for their support of our efforts to create a world where everyone has a safe and decent place to call home."
About Habitat for Humanity
Driven by the vision that everyone needs a decent place to live, Habitat for Humanity found its earliest inspirations as a grassroots movement on an interracial community farm in south Georgia. Since its founding in 1976, the Christian housing organization has grown to become a leading global nonprofit working in local communities across all 50 states in the U.S. and in more than 70 countries. Families and individuals in need of a hand up partner with Habitat for Humanity to build or improve a place they can call home. Habitat homeowners help build their own homes alongside volunteers and pay an affordable mortgage. Through financial support, volunteering or adding a voice to support affordable housing, everyone can help families achieve the strength, stability and self-reliance they need to build better lives for themselves. Through shelter, we empower. To learn more, visit habitat.org.
About Johnson Controls
At Johnson Controls, we transform the environments where people live, work, learn and play. As the global leader in smart, healthy and sustainable buildings, our mission is to reimagine the performance of buildings to serve people, places and the planet. Building on a proud history of nearly 140 years of innovation, we deliver the blueprint of the future for industries such as healthcare, schools, data centers, airports, stadiums, manufacturing and beyond through OpenBlue, our comprehensive digital offering. Today, with a global team of 100,000 experts in more than 150 countries, Johnson Controls offers the world`s largest portfolio of building technology and software as well as service solutions from some of the most trusted names in the industry. Visit www.johnsoncontrols.com for more information and follow @JohnsonControls on social platforms.