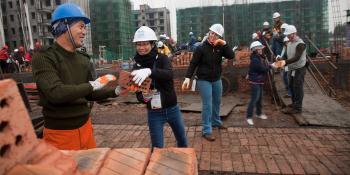 Responding after disasters strike is not enough. Recognizing this, Habitat for Humanity International and affiliated organizations around the world, especially those located in disaster-prone regions, work to reduce vulnerabilities and build community resilience.
Incorporating initiatives into our program
Through the design and implementation of adaptation mechanisms, communities can tackle predictable disasters and better cope with the impact of climate change.
Habitat integrates disaster risk reduction initiatives into our shelter, housing and settlement program platforms. In addition, we incorporate high doses of primary stakeholder participation and community-based methodologies.
The Hyogo Framework for Action contains the guiding principles for disaster risk reduction.
It is now acknowledged worldwide that efforts to reduce disaster risks must be systematically integrated into policies, plans and programs for sustainable development and poverty reduction.
These efforts must be supported through bilateral, regional and international cooperation and partnerships.
Building the capacity to reduce risk Sustainable development, poverty reduction, good governance, climate change adaptations and disaster risk reduction are mutually supportive objectives.
To meet the challenges ahead, accelerated efforts must be made to build the necessary capacities at the community and national levels to manage and reduce risk.
Our programmatic approach
Disaster mitigation and climate change adaptations
Vulnerability and risk can be influenced and reduced by correct application of relevant standards and building codes. Adaptations to changing climatic conditions can also be incorporated in the design of shelter solutions, settlement layout and site development.
Habitat organizations located in countries where recurring, cyclical hazards are present have learned to integrate mitigation elements into project design. These elements combine proper land use, holistic site selection, appropriate technology and culturally sensitive materials and construction practices to new housing or retrofit and repair projects. These design elements make houses more resilient to disasters and climate change.
Disaster preparedness training
As required by Habitat's regular selection process, families are required to make a commitment to contribute to construction-related activities and to attend compulsory training on housing-related topics. In many locations, disaster preparedness is included as part of the training requirements.
Disaster preparedness addresses local hazards, protection during a disaster event, contact channels with relevant authorities, early warning mechanisms and evacuation procedures, etc. Take-home materials with disaster preparedness and contact information are also produced and distributed to communities and families by local Habitat affiliates.
Disaster risk management programs
With the assistance of peer organizations such as Red R (India), Habitat for Humanity has developed a number of methodologies to facilitate vulnerability assessment and risk management at the community level. An increasing number of Habitat organizations have incorporated the implementation of this program methodology in vulnerable communities located in areas where disasters are "predictable".
The methodologies actively involve various community groups in the identification of hazards, vulnerabilities, assets, resources and capacities present in their communities. These groups help to devise risk management plans that may encompass early warning systems, evacuation plans and attention to vulnerable groups. They also help to identify community projects that contribute to disaster mitigation and risk reduction. The plan is administered and maintained by an elected community task force and support is provided by Habitat to build organizational capacity.