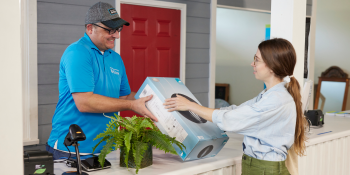 Volunteer at a Habitat for Humanity ReStore
Your local Habitat for Humanity ReStore is a place to put your talents to work.
From customer service to merchandising to event planning, Habitat ReStores offer a multitude of volunteer opportunities geared toward individual interests and skills. In addition to helping families create safe, decent and affordable housing, you can expect a fun and rewarding time while volunteering at Habitat ReStore! It's a great place to interact with ReStore staff and your fellow volunteers while engaging with the community.
There are more than 850 ReStore locations around the country. Find the location nearest you to see what volunteer opportunities are available.
Habitat ReStore volunteers bring new skills and build capacity to help provide discounted building materials and home goods to the community. Habitat for Humanity uses funds raised by its ReStores to help families build, rehabilitate and repair homes. By giving your time and talents, you can help the Habitat ReStore do more to support homebuilding projects that benefit families in your community and around the world.
Volunteer opportunities at your Habitat ReStore
Volunteer needs at your local Habitat ReStore may vary, but the following are common ways you can help:
Merchandising and creating decorative displays

DIY projects

Customer service

Stocking store shelves

Unloading trucks

Pricing inventory

Organizing the ReStore and the warehouse

Sales floor associate
Contact your local Habitat ReStore today and see how you can get involved.
There are many ways to volunteer with Habitat. No matter which way works best for you, feel good knowing your efforts make a difference in the community while enjoying the additional benefits of volunteering.