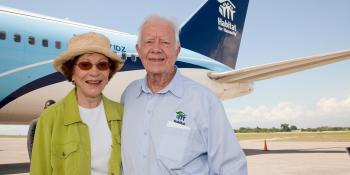 Habitat Humanitarians: The Carters
Since 1984, President and Mrs. Carter have been champions and strong voices for affordable, decent housing for all, donating their time and leadership each year to build and improve homes through Habitat's Carter Work Project.
Over the course of more than 30 years, they have worked alongside nearly 100,000 volunteers in 14 countries to build, renovate and repair more than 4,000 homes and have inspired millions mores through their dedication to Habitat's mission.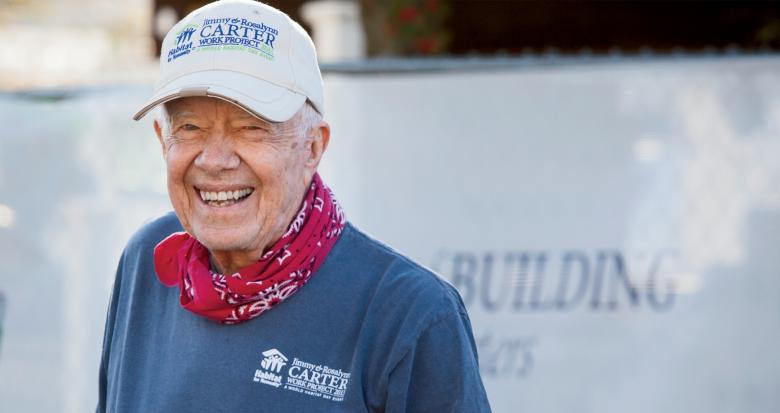 Former U.S. President Jimmy Carter
"I think every human being has within himself or herself a desire to reach out to others and to share some of our blessings with those who are in need. But it's one of the most difficult things to do.
"What's opened up that avenue for me and my wife and hundreds and thousands of others is Habitat for Humanity. It makes it easy for us to reach out and work side by side with the homeowner who's never had a decent house, perhaps. I haven't been on a Habitat project that I wasn't thrilled and inspired, and wept."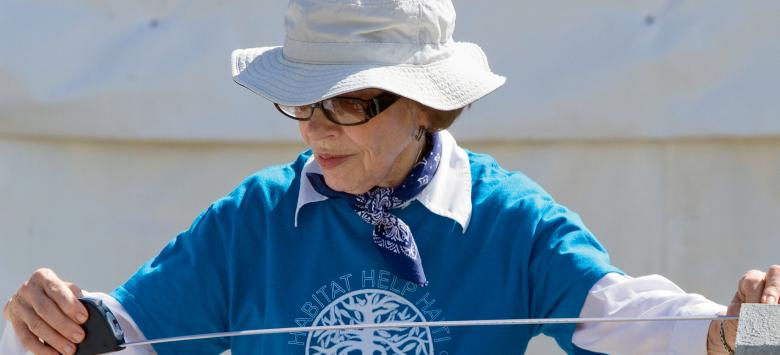 Q&A with former first lady Rosalynn Carter
On the meaning of "home"
"My home is a haven for me. Jimmy and I do a lot of things, and I am always glad to get back home. My things are there. My memories are there. It is just security and safety for me."
On why a home is important for families
"We have been with Habitat for so long and have seen so many people finally have a home. It really does change their lives and the lives of their whole family. It gives them a sense of belonging, a sense of self-esteem. When somebody has a home, they don't have to struggle as much to find a place to stay. They have more time for family, more time for children. It is just life-changing."
On why she builds with Habitat year after year
"If you could see the expression on the faces of the people when we give them a Bible and the keys to their house, you would know why. It is just so inspiring. It is really emotional. We always cry. It's the families that keep us going."
On what she hopes families have learned from her
"I hope they feel that we really care about them and that they have a home to live in."
On what she has learned from Habitat families
"I have become aware of the great needs of people who don't have a home. Their values are just the same as ours. They want an opportunity to have good lives. That is what Habitat is about. It just makes you want to keep building more houses."
On building with Habitat
"The first house we ever worked on was in New York City. It was an old burned out building — the rafters were charred where people had been burning stuff to keep warm. I told Jimmy that I would help with the food, that I was not going to do hammering. The only thing I had ever done was to nail a nail into the wall to hang a picture. Jimmy asked me and some other women to pry up some linoleum from the floor. Just before we finished, somebody brought some boards for us to nail down. The first day, I was hammering.
"I am a fairly accomplished carpenter now. I've even framed a door, which is not easy. I never dreamed I would be a carpenter. And I really enjoy doing it, too. It is so much fun to see a house go up."
On building with Trisha Yearwood and Garth Brooks
"They are wonderful workers — they work solid all day long. I have seen her lying on her back on a rafter hammering. I have been impressed from the first year they came, and they have come a good many now."
On building alongside President Carter
"We do most things together, but this is so different. It is a good feeling to be together with him. Some of our children go with us almost every time. It is just a wonderful, wonderful experience."
On why people should volunteer with Habitat
"So many people want to do something good and don't know what to do. For anybody who wants to get involved with an organization, there is nothing that they could do that would give them such a life-changing experience as Habitat.
"This is something that brings together people who have everything they need and those who don't have so many things we take for granted. You come to know the homeowner and love the homeowner and their family. It makes you aware and care about the people and hope they have good lives and good homes.
"It has made me a better person."