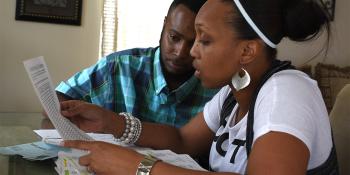 How does financial education help families?
Future Habitat homeowners participate in financial education classes, often before the building process even begins.
As future homeowners partner with Habitat for Humanity to build or improve a place they can call home, they work hundreds of hours to secure a better future for themselves and their families.
Those future homeowners work to build their home — and the homes of others — alongside volunteers, but they also take steps that will help ensure their long-term success once they are in the home.
For example, future Habitat homeowners participate in financial education classes that help them develop a solid foundation, often before the building process even begins.
"In pre-purchase classes, they go through credit repair, checking, savings, money market accounts, loans, and they also have estate planning and wills," says Kandace Diggs, family services coordinator at Salt Lake Valley Habitat.
"When we sit down, the very first class, we have them create a budget and list all of their outgoing payments and all of their incoming money each month so that they can get hands-on and actually see what's going on," Kandace says. "We talk to them through the whole process. It takes, usually, about a year and a half, start to finish."
DIY tip #30
Share tools and lawn equipment with neighbors. Wheel barrows, ladders and tillers are tools that aren't needed on a daily or even weekly basis.
Get our guide with over 150 household tips from Habitat supporters like you!
Knoxville Habitat also helps future homeowners track income and expenses to build a budget and invites guest speakers from local banks to come in and talk to families about credit.
"We break it down into four categories. Housing, food, debt and then we have a category for 'other'," says Anna Engelstad, Knoxville Habitat's family services manager, who helps future homeowners consider "what things end up in this 'other' category that you can anticipate and forecast throughout the year."
"After the first 90 days, they're starting to see what their personal budget is," Anna says. "And then we start talking about other things like increased saving strategies and if you have substantial debt, how we're going to attack that debt."
Laura, a Fort Collins Habitat homeowner who has lived in the home she helped build for approximately a year and a half, says these types of classes can have a long-lasting, generational impact. "They set you up for success," she says, "creating that sense of security that comes not only from homeownership, but savings and investments."
You can help a family help themselves
Families who partner with us build their own homes alongside volunteers, pay an affordable mortgage and are grateful for your help.