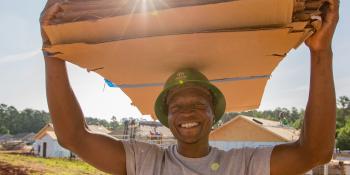 AmeriCorps Build-a-Thon
This annual event engages communities and members in a weeklong blitz build.
Each year, our Habitat AmeriCorps members and alumni from across the country gather for a weeklong blitz build that engages the community.
Build-a-Thon is held in partnership with local Habitat organizations and their surrounding communities, helping meet their needs for safe, affordable housing while celebrating the partnership and AmeriCorps members' service and impact. 
Build-a-Thon resources
You can visit these resources for more information.