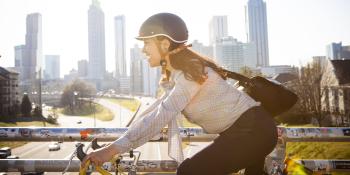 Top 10 cities where you can live without a car and help save the Earth
There are many ways to begin living differently. Donating your car to Habitat for Humanity could be a good place to start.
A car donation could mean saving money on insurance and getting an extra tax deduction, but one of the most gratifying benefits of donating a car could come from the lifestyle transformations that might happen. Driving less may create a closer bond with your local community as you explore areas on foot, plus the proceeds of that donation help build a new home for a family in that same community. Another positive byproduct of car donations is improved air quality from pulling pollution-causing cars off the road, which elevates the impact to a global scale.
Although not the sole culprit for toxic air, driving has been the source of a couple of key elements leading to smog, or ground-level ozone. In 2017, highway vehicles accounted for 31.4% of all the carbon monoxide and 34.3% of all nitrogen oxides pumped into the air in the United States. Nitrogen oxides react with sunlight and volatile organic compounds, or VOCs, in the atmosphere to create smoggy environments that lead to asthma and other respiratory diseases. Many cities are increasingly feeling the effect of air pollution. For example, in 2018, Los Angeles, a city notorious for its heavy traffic jams, had a long bout with smog for 87 days straight, coinciding with a heat wave and blanketing the city in polluted, harsh air to breathe.
Decades earlier in 1998, Moshe Safdie, author of The City after the Automobile: An Architect's Vision, imagined a post-automobile urban environment. Other urban planners have followed his lead, but despite individual and collective activities confronting environmental concerns, our air quality continues to show signs of degradation. As more people move into cities and traffic thickens, massive amounts of emissions are released into the air daily, contributing to unhealthy conditions.
While air pollution comes from a variety of sources that may not be easy to control, citizens and cities are making intentional changes to help air quality by developing lifestyles less dependent on driving. As more people are choosing to commute to work, run errands or explore the city through mass transit, biking and walking, city leaders are taking notice and reformatting urban landscapes to be more environmentally conscious. The federal government has even provided funding opportunities for more than a decade to encourage safe biking and walking paths as part of integrated transportation plans.
According to a 2017 list from Walk Score, a company that has developed a ranking system for grading walkability, biking and transit in urban areas, the below cities average high across all measures and are conducive to car-free lifestyles. Research from 2019 sheds light on just how these cities are already on the path to reducing emissions and may be ideal places to part ways with a car lifestyle.
10. Miami
9. Seattle
8. Minneapolis
7. Philadelphia
6. Jersey City
5. Washington, D.C.
4. Chicago
3. Boston
2. San Francisco
1. New York
Become a car-free person
If you live in one of these cities, you may have the upper hand on jump-starting a new eco-friendly lifestyle sans auto, but don't be discouraged if you live elsewhere. Start by taking your bike to work a few days a week to test things out. Walk to get groceries at local stores more often. Encourage your friends to head out to events on the bus or commuter train. Wherever you live, advocate with your community leaders to improve commuter options of all kinds. It only takes a few small changes to get the wheels turning toward a minimal driving lifestyle.
When you are ready to let go of your vehicle, reach out to Cars for Homes, Habitat for Humanity's vehicle donation program. Your donation will directly benefit your local Habitat and will help build safe, affordable housing in your area. For end-of-life cars, the steel parts continue to be valuable for the environment through recycling, reducing the release of VOCs from new steel production. To find out more about our program or to start a donation, visit our page or give us a call at 1-877-277-4344. Reduce driving, reduce emissions and live with intention. Let's do this!
Donate my car
Donate a vehicle online in three easy steps.
Get started