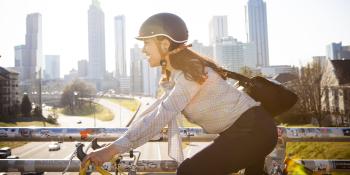 Top 10 cities where you can live without a car and help save the Earth
By Julieta Chavez Delua, senior specialist with Habitat's Cars for Homes program
Ever think about forgoing your car and embarking on a carless lifestyle? Two excellent reasons to consider it: It's a great way to reduce your carbon footprint, and a car donation to Habitat for Humanity can help make a life-changing impact.
The potential benefits of living carless abound and may include:
Saving money on fuel, insurance and maintenance

Creating a bond with your community when traveling on foot or by bike and public transportation

A healthier community — with less driving, fewer harmful emissions are released into the atmosphere
If you donate your car to Habitat, there are even more benefits:
Your car donation could mean a significant tax deduction for you.

Proceeds from your donation go on to help families in your community build decent, affordable places to call home.
Walk Score has developed a ranking system for grading walkability, biking and transit in urban areas. Using Walk Score's rankings, I aggregated their data across all three measures and created a ranking of cities that are most conducive to a car-free lifestyle. Find that list and a little more information about each city below:
10. Seattle
Walk: Seattle offers numerous unique neighborhoods to explore by foot. The best places for walking are 

Downtown

, 

International District

,

Belltown

,

First Hill

and

Pioneer Square

.

Bike: Biking is convenient for most trips. The city is interwoven with a system of protected bike lanes, multiuse trails and neighborhood paths. The city encourages biking and provides tools for safer riding.

Transit: Seattle has many transportation options. The newest public transit by Sound Transit, the Link light rail, takes riders from the SeaTac International Airport to downtown Seattle in just 38 minutes. If traveling longer distances, the Sounder train also extends Tacoma and Bellingham. The ferry system provides transportation to nearby island communities while buses and streetcars service the city.

Other: Shareable, dockless electric bikes and scooters are allowed as part of the city's mobility program.
9. Newark
Walk: The most walkable neighborhoods include

Newark Central Business District

,

North Ironbound

and

University Heights

.

Bike: There is some bike infrastructure, however the city plans to launch NewarkGo, a pilot bike and scooter share program in 2021.

Transit: This city is connected with Newark Penn Station serving as a central hub to get around. Catch the subway to New York City or hop on NJ Transit trains and buses, as well as Amtrak, Greyhound, BoltBus and the light rail.
8. Minneapolis
Walk: This city boasts having the largest skyway system in the world, stretching for 8 miles. This climate controlled system makes walking during the frigid winter more comfortable. Minneapolis' most walkable neighborhoods are 

Lyn Lake

, 

Downtown West

, 

Lowry Hill East

and

Uptown

.

Bike: The city ranks No. 1 in the U.S. for bikeability, which may be due to the large support from Move Minneapolis, a program dedicated to encouraging broader transportation options and promoting faster, easier, cleaner and affordable commuting. This nonprofit working in conjunction with the city offers beginner biking education and resources like bike lockers and repair stations around town. Minneapolis also uses the Nice Ride app that allows riders to unlock and borrow bikes across the city.

Transit: Metro Transit provides transit services including bus, light rail and commuter rail.

Other: Shareable, dockless electric scooters are available.
7. Philadelphia
Walk: Philadelphia ranks as the U.S.'s 5th most walkable city. It's most walkable neighborhoods are 

Center City West

, 

Rittenhouse Square

 and

Avenue of the Arts South

.

Bike: The city has some infrastructure for biking and promotes varied cycling experiences, such as bike path resources and the Indego bikeshare program.

Transit: Philadelphians and visitors can access the seasonal Philly Phlash to get to local attractions as well as Southeastern Pennsylvania Transportation Authority's vast public transportation network, known as SEPTA.
6.

Washington, D.C.
Walk: Washington is rich in walkable neighborhoods and nationally recognized attractions. Its most walkable neighborhoods are 

U-Street

,

 

Dupont Circle

and 

Mount Vernon Square

.

Bike: The city's landscape, parks and abundant bike paths make the District a good place to ride. 

Transit: The Washington Metropolitan Area Transit Authority offers rail and bus options and provides access to surrounding suburbs.

Other: The city allows for sharable, dockless electric scooters and bikes.
5.

Chicago
Walk: Chicago has exceptional walkability. Its most walkable neighborhoods are

East Ukrainian Village

,

 

Near North Side

and 

West Loop

.

Bike: Divvy bikeshare stations are positioned in key areas of the city.

Transit: Connected by great city transportation, nondrivers can get around by Chicago Transit Authority bus, train or water taxi.
4.

Boston
Walk: Boston is known as "The Walking City" so it is no wonder it ranks No. 4 in overall walkability in the U.S. City walking is supported by advocates who audit paths and share useful resources for pedestrians. Boston's most walkable neighborhoods are 

Beacon Hill

, 

North End

 and 

Bay Village

.

Bike: Boston is somewhat bikeable with a few trails and paths that are just right for rolling through the city. They have a bikeshare program powered by

Bluebikes

.

Transit: The Massachusetts Bay Transportation Authority, referred to locally as the "T." operates the city's subway, bus, trolley car and boat services around Greater Boston.
3.

Jersey City
Walk: The most walkable Jersey City neighborhoods are 

Historic Downtown

, 

Journal Square

 and 

McGinley Square

. There are many walking paths are near the Hudson River with scenic views of New York City and Ellis Island.

Bike: The city has some biking infrastructure. The Hudson River Waterfront Walkway offers the most flexibility for walkers and bikers. A bikeshare system is also in place through

Citi Bike

.

Transit: Catch a Port Authority NY NJ subway line with connections between Manhattan and neighboring New Jersey urban communities or take it to the suburbs. Choose to ride the Hudson Bergen Light Rail or the NJ transit buses. Book a ride on the NY Waterway Ferry with routes to New York City and other nearby destinations.
2. San Francisco
Walk: San Francisco ranks second in the U.S. for walkability.  Its most walkable neighborhoods are 

Chinatown

, 

Tenderloin

 and 

Downtown-Union Square

.

Bike: San Francisco has ample biking infrastructure. The city is supportive of the bike culture and offers many safe paths for riders.

Transit: Get around the city on the fuel-efficient Muni buses, light rail Metro trains, a historic streetcar or cable car. For farther bay area commutes, catch the Bay Area Rapid Transit, known as BART.  

Other: Dockless electric scooters and bikes are available.
1. New York
Walk: New York is the most walkable city in the U.S. New York's most walkable neighborhoods are 

Little Italy

, 

Bowery

 and the 

Flatiron District

.

Bike: New York City has more than 1,200 miles of bike lanes and routes to choose from. There's a rideshare program in place through Citi Bike.

Transit: With a complex transportation system, New Yorkers can get around by bus or subway within the city and out to surrounding areas. Operated by the Metropolitan Transit Authority, the MTA network has the country's largest bus fleet and extensive subway and commuter rail cars.
Become car-free
If you live in one of these cities, you may have the upper hand on jump-starting a new eco-friendly lifestyle sans automobile, but don't be discouraged if you live elsewhere. Start by taking your bike to work or to run errands a few days a week. Walk when you can. Take the bus to pick up your groceries. Wherever you live, advocate with your community leaders to improve commuter options of all kinds. It only takes a few small changes to get the wheels turning toward a minimal or non-driving lifestyle.
Ready to let go of your car?
Reach out to Habitat's vehicle donation program, Cars for Homes. Your donation will directly benefit your local Habitat and will help families build safe, affordable housing in your area.
We also accept cars that are totaled or nonworking. The steel parts of vehicles can be recycled, which reduces the release of harmful volatile organic compounds or VOCs from new steel production.
Learn more about our program or start a donation. Reduce driving, reduce emissions, create more affordable housing and live with intention. Let's do this!
Donate my car
Donate a vehicle online in three easy steps.
Get started