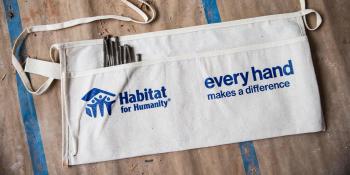 Many employers will match tax-deductible charitable contributions made by their employees, retirees and employees' spouses. Some provide matching funds to support employee volunteer hours.
Learn how you can double your donation with employer-matched gifts.
Step 1
To find out if your company will match gifts to Habitat for Humanity, enter your employer's name in the field below. Then, follow the steps to have your company match your gift.
Step 2
Complete the requirements your company has in place for matching gifts. You may need the following information:
Employer Identification Number (i.e. EIN or Federal Tax Identification Number): 91-1914868
Organization name: Habitat for Humanity International
Organization mailing address: 322 W. Lamar St., Americus, GA 31709-3543
Phone: 1 (800) 422-4828, ext. 7950
Fax: (229) 410-7629
Email address: [email protected]
Website: www.habitat.org
Organization type: Civic, Health and Human Service, Shelter
Step 3
Submit your matching gift form online, or email a copy of your form to our matching gift coordinator at [email protected].
Thank you for your support.
Your contribution will ensure that families in your neighborhood and around the world have the opportunity to build a brighter future. Your employer's match will help people build even more homes and change even more lives.