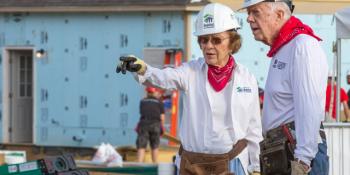 Construction begins in Memphis
This year's Carter Work Project got started bright and early with President and Mrs. Carter arriving at the Bearwater Park neighborhood eager to get to work. The Carters started building with Habitat in 1984 in New York, with just a few dozen volunteers traveling with them.
This week's volunteers, whether they traveled from California or traveled 25 minutes to the site, join the more than 92,000 people who have worked alongside the Carters over the years. The volunteers began showing up to the site before sunrise, excited to begin the week. After breakfast, President Carter spoke to the volunteers who this week will go on to build 19 new homes, work on 10 beautification projects and six aging in place repairs that will help older homeowners stay in their homes.
The sounds of hundreds of hammers filled the early morning air. As the first walls went up, the future homes that will serve as places of stability for families began to take shape. A sign in the front yard of each home bears the name of the family that will make their lives there.
President Carter thanked everyone who is building this week, but didn't speak long; it was time to get to work.