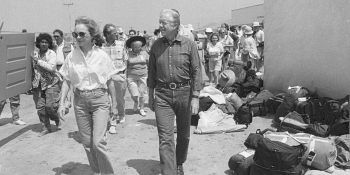 Carter Work Projects through the years
In September of 1984, former U.S. President Jimmy Carter and former first lady Rosalynn Carter led a group of Habitat for Humanity  volunteers to New York, building alongside 19 families in need of safe, affordable housing. That was the inaugural Carter Work Project, which is now a weeklong event taking place in a different location all over the world each year.
Since then, President and Mrs. Carter have been building and advocating for affordable housing alongside Habitat for Humanity for over 30 years. Journey through the incredible legacy of Carter Work Projects below!