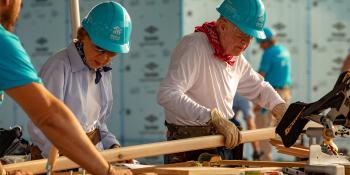 In August 2018, the Jimmy & Rosalynn Carter Work Project, a milestone 35th build for President and Mrs. Carter, took place in Indiana. The couple worked alongside future homeowners and hundreds of other volunteers to build or improve 41 homes in Mishawaka and South Bend.
"Every family deserves a chance to build a better life for themselves, and that's what we helped do," said Jim Williams, executive director of Habitat for Humanity of St. Joseph County, at the event's closing ceremony. "We helped build an entire community this week — a community based on love."
During the week, Habitat St. Joseph County announced that the momentum of the Carter Work Project would continue with the accrual of another seven acres of land adjacent to the construction site. The additional land allows for several more Habitat homes, as well as opportunities to keep the community engaged in the ongoing need for affordable housing.