Week 1
Hope and the power of prayer
By Mabel and Zacarías Lagos Cabrera
Choose this day whom you will serve, …but as for me and my household, we will serve the Lord.
— Joshua 24:15, NRSV
The passage above from Joshua was the foundation on which we raised our children. We taught them the importance of setting aside some time from their many daily activities to be with God, to speak to Him, to leave everything we have in His hands and to pray for our brothers and sisters.
Carla, our daughter-in-law, desired to have her own house with all her heart. One day, we were at a meeting in our church when she said, "I am going to ask God for a house," and at that moment, she put all her hope in His hands. Then she said to Zacarías, "You have prayed for many things and many people, but you have never prayed specifically for me and my house."
Zacarías grabbed her hands and said, "Today God is preparing a house for you." We prayed for that house with hope, faith and persistence, and in less than a year, Habitat for Humanity Argentina offered Carla's family the opportunity she was expecting. The prayer of intercession is powerful and plays a fundamental and necessary role for God's promises to be fulfilled.
For Carla and our son Rolando, building their house meant a lot of effort. They built when it was hot, when it was cold and when it was raining. But now they are homeowners who know firsthand about the power of hope and the anticipation of this Advent season. In their new home, they will continue to serve the Lord. God has been good and has blessed us all.
During this time of Advent, as we prepare for the coming of the Lord at Christmas, we remember to do so with hope, love, joy and peace. These are the promises and the gifts that Jesus brings to us.
Prayer
God, thank You for always finding the path to us. Thank You for mobilizing the hearts of so many Habitat supporters to help families have an adequate place to live. Thank You for Your generosity and for volunteers, for companies that offer their help and for Global Village teams. As we await the coming of Jesus this Christmas, please teach us how to pray for one another, spreading hope, especially to those with no home. Amen.
Questions
How do I bring hope to those who surround me?
Do I believe that I can be an instrument for God's promises to be fulfilled in the life of others?
Do I trust God's providence enough to spread hope?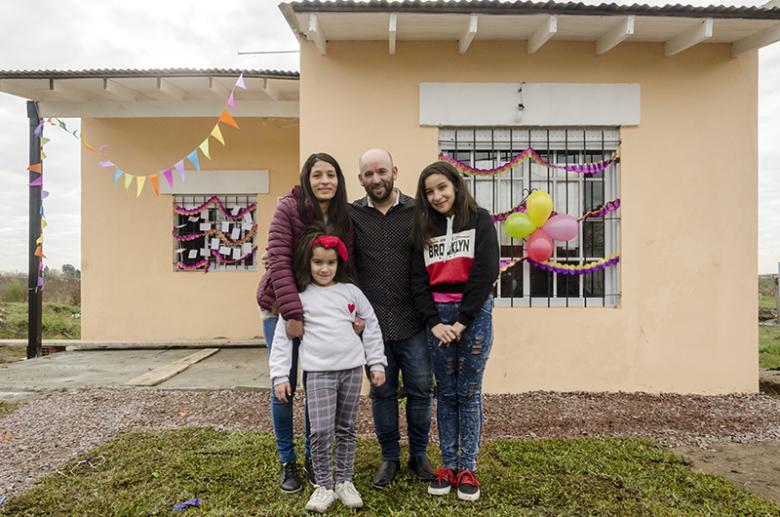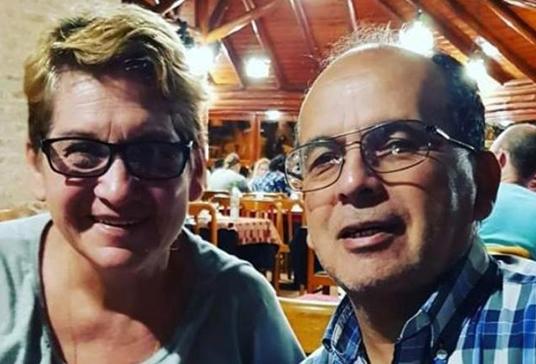 Week 2
A deep and abiding love
By Reshma
I have come that they may have life, and have it to the full.
— John 10:10b, NIV
I grew up frequenting various places of worship, assuming they all taught the same truth. However, when I was in my early 40s, I first heard the gospel of Christ. A person who visited the hospital where my husband had been admitted with a serious chest infection told me how much Jesus loved me. I was convicted and spontaneously surrendered my life to Him. Subsequently, I joined a church and attended weekly Bible studies. It was through my church that I first heard about Habitat for Humanity.
Since then, I have walked with the Lord Jesus. I give thanks that He submitted to His Father's will even when that meant death on the cross.
I have relied deeply on my faith in recent years. In 2009, I lost my husband, and two years later, my daughter died as well. But through all the sorrow, I have known the deep and abiding love of Jesus. I know that like a shepherd who knows his sheep, Jesus knows my name. He knows my heart and brings me great comfort.
Despite the great losses in my life, I have also known great joy. My heavenly Father meets both my spiritual and physical needs, including the provision of a decent place to live — thanks to Habitat for Humanity. I am living a life of abundance through Jesus. I feel safe and confident in my home even though my life is nothing like I expected it to be.
During this time of Advent, a period of spiritual preparation that culminates in Christmas, we are invited to ponder the great love that is the Father's gift to us in Jesus. This season is a time when I focus deeply on how God sought me out to show me how much He loves me. So during this season, I will seek to give back to others as a way of sharing the rich love of Jesus I have so freely received.
All glory to God!
Prayer
Dear God, thank You for the birth of Your Son Who came to save us and Who offers us a life of abundance. I am one among the multitudes, yet You called me to follow You. Thank You for the indescribable gift of Your amazing love. Please show me ways in which I can encourage others to choose life in Jesus. Amen.
Questions
How do you explain the promise of abundant life to those who have experienced great sorrow and great loss?
Please share how you have experienced abundant life in Jesus.
In what specific ways do you share the gift of Jesus with others?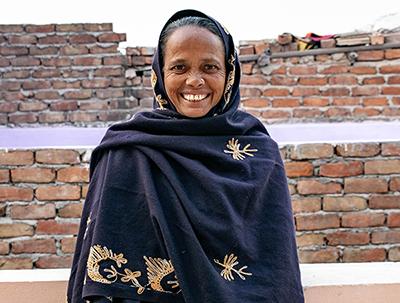 Week 3
The joy of being included
By Elliot Palmer Jr.
In those days John the Baptist came, preaching in the wilderness of Judea and saying, "Repent, for the kingdom of heaven has come near." This is he who was spoken of through the prophet Isaiah:
"A voice of one calling in the wilderness,
'Prepare the way for the Lord,
make straight paths for him.'"
— Matthew 3:1-3, NIV
At our family get-together for Christmas in 2018, my sister gave me a present that brought me to tears.
It was a Crock-Pot.
To anyone else, a kitchen appliance might not seem exciting, but to someone like me, it meant the world. Just days before our Christmas celebration, I moved into my new Habitat home. Before that, I lived in my parents' house with my sister and daughter, paying rent and sleeping on their couch.
My family took me in after years of homelessness, addiction and even incarceration. They spent countless nights feeding me and caring for me while I gave little to nothing in return. But in that Christmas moment, I knew they trusted me and they were proud of how far I'd come.
My family's gift brought me such joy because it symbolized that I was now fully included in the family as a healthier person. That inclusion is what we celebrate this Advent season. Christ came to save the world and everyone in it. He gives Himself to all of us, regardless of our transgressions.
It is our mission to share Christ's love and inclusiveness with those around us, especially the marginalized. I will never forget a man who reached out to include me. While I was serving time in jail in 2008, Larry Bumgardner, a Habitat volunteer, would come and pick up a group of men, then bring us to a local Habitat build site.
I didn't know at the time that God was preparing my way through those early experiences with Habitat. Through Larry, God brought me out of incarceration — the ultimate exclusion from society — to a place of community and love. I had an opportunity to serve and feel included in something bigger on those Habitat builds.
Christ came so that we could build upon what He has provided for us, and when He does, we need to ask ourselves, "How can I help prepare the way of the Lord?" and "Who can I include in God's love today?"
With a home of my own now and a Crock-Pot to cook in, I'm ready to invite people in and serve the Lord.
Prayer
Great and gracious God, thank You for loving us so much that You gave Your only begotten Son. Thank You for preparing the way for us so that we may better serve You. Dear Father, show us how we can prepare the way for others to improve their lives and the lives of those around them. Guide us to help others find the love of Jesus Christ. Lord, we are ready to serve You and worship You. Amen.
Questions
Can you think of a time when someone saved you from the feeling of exclusion?
What specific things have others done that made you feel included? What emotions did you experience?
How can you be someone like Larry and help others feel like part of a community?
Can you think of examples of Christ including the marginalized? How do you connect with the people in those stories?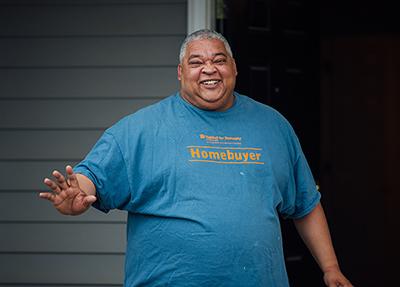 Week 4
Jesus brings us peace in the most difficult times
by Claude Farah
Come to me, all you who are weary and burdened, and I will give you rest.
— Matthew 11:28, NIV
After 16 years of marriage and moving about — sometimes renting and sometimes not — I remember the endless agonies of having to uproot our children again and again. In those circumstances, we found ourselves greatly burdened and living in the depths of despair and sadness.
During this Advent season, however, we are reminded that light has overcome darkness and hope has defeated anguish. Our burdens can be lifted. My family experienced that so clearly when others reached out to help us so we could move into our house that Habitat for Humanity helped to make a reality. We now have a stable place to call home.
As people around the globe prepare for Christmas, we delight in remembering that on the night our Savior was born, the fate of the world was changed. Jesus provides a bridge of reconciliation and offers intercession to bring us closer to God. He offers us peace in the most difficult times.
Through the love of Christ alive in us, we find opportunities to lighten the load of others. Habitat reminds us that everyone has something to give. During this Advent season, may we focus on the gifts of kindness, compassion and generosity that we can offer.
May we avoid getting caught up in distractions and the things that pull us away from the presence of God. Instead, may we focus on Jesus. Let Christmas not be a memory of one night, but a reminder of our eternity with the God who loves us unconditionally. May we remember each day that we are blessed to be a blessing.
Prayer
Father, thank You for Christmas, thank You for Jesus, and thank You for all you have given to us. I thank You that You heard our cry and provided me and my family shelter during many difficult years of living here and there. Thank You for continually offering us rest and peace when we feel burdened. Bless all those who seek to ease the struggles of those who are suffering. Amen.
Questions
When you face struggles in life, what is the first thing you do?
How have you experienced Jesus lifting your burdens?
How will you seek to draw nearer to God each day? To be a blessing to others?
How will you make this Christmas different?