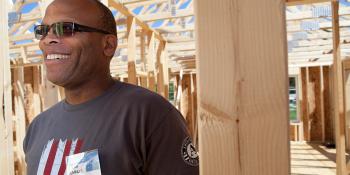 Habitat for Humanity's Repair Corps program
Since 2011, The Home Depot Foundation has generously funded critical repairs on the homes of veterans through Habitat for Humanity's Repair Corps program.
This program is open to all military veterans, provided they have received an honorable discharge, and is not restricted to any specific veteran groups. While the primary focus of the program is on critical home repairs for veterans, the foundation has expressed readiness to fund standard repairs on the homes of qualified veterans provided homes with critical needs take precedence.
What is critical home repair?
Critical home repair is interior or exterior work performed to alleviate critical health, life and safety issues or code violations, including a change to or repair of materials or components; a reconfiguration of space; a modification for accessibility; or the installation or extension of plumbing, mechanical or electrical systems on an existing structure.
For select affiliates participating in the Repair Corps program: 
Projects can include existing Habitat homes, provided a qualified veteran resides in the home. 
Board-approved family selection criteria apply (need, willingness to partner, ability to repay).
The home must be owned, not rented.
A veteran must reside in the home, though the veteran need not own the home, but it must be his/her primary residence.
To date, Repair Corps has served veterans from all service branches. Participating veterans served as far back as World War II. But, there is still much to be done! Join us in helping veterans and their families build strength, stability and independence through shelter.
Please donate now
Every donation makes a difference.