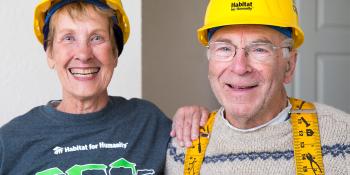 Disaster Rebuild Team
Help rebuild when the storms have passed
The Disaster Rebuild Team is comprised of RV Care-A-Vanners who have received Disaster Corps training and can be deployed in the recovery phase of a disaster to assist affiliates as house leaders during their rebuilding efforts.
The first training commenced in Americus, Georgia, in March of 2013. Thirty participants engaged in a four-day curriculum that focused on emergency management and construction site supervision.
Leveraging RV Care-A-Vanners' significant experience as house leaders, their skills and talents can be used in disaster situations to provide a greater impact for disaster-affected affiliates.
If you are an RV Care-A-Vanner and interested in joining the Disaster Rebuild Team, please contact Mary Vandeveld at MVandeveld@habitat.org. 
2017 training
Training for the Disaster Rebuild Team will take place April 3-6 in Americus, Georgia.
Guest housing or RV spaces will be provided, as well as lunches and snacks during training. 
Applications will be reviewed by the Disaster Risk Reduction and Response and RV Care-A-Vanner teams at Habitat for Humanity International. A group of 25-30 accepted applicants will be notified in March.