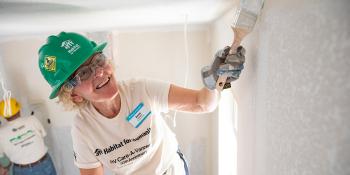 RV Care-A-Vanners safety corner
At Habitat, we work with staff members, trained specialists, volunteers and homeowners to put safety at the forefront of every project. 
Our RV Care-A-Vanner program's safety corner provides important information and guidelines to help promote safety across all our build sites. Prioritizing safety not only protects those on our sites, but helps keep our work productive so we can continue empowering families to build a decent, affordable home where they can have a brighter future. 
On our job sites, we follow Occupational Safety and Health Administration, or OSHA, construction standards. We've also adopted a policy that requires local Habitats to have a certified Habitat Competent Person on staff. This person has successfully completed the Habitat Competent Person Safety Training Course and has been authorized by their local Habitat manager to identify and correct existing and potential hazards in working areas and conditions.
We've also compiled a list of best practices for local Habitats that meet or exceed OSHA standards and align with Habitat policies to safely manage volunteers on a job site. View the page or download a PDF of these best practices.
While volunteers work with their team leader, construction site supervisor and trained Habitat Competent Person to maintain a safe work environment, there are measures each volunteer can take to promote safety while they work. Check out our job site safety practices for volunteers or download a PDF.
Be sure to check the RV Care-A-Vanner's page for updates on the program.