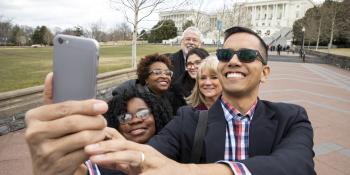 Habitat on the Hill 2023: Advocacy for Impact
Feb. 7-9, 2023
After two impactful virtual conferences, we are thrilled to invite home affordability advocates from across the country back to Washington, D.C., for our annual legislative conference, Habitat on the Hill!
At Habitat on the Hill 2023: Advocacy for Impact, participants will learn about the implications of a changing political environment on housing policy and discuss challenges and solutions for advancing Black homeownership with national and local housing experts. Additionally, they'll meet with congressional offices, celebrate a year of policy successes at all levels of government, and leave with the tools necessary to increase their advocacy impact locally – all while connecting with peers in our nation's capital.
We look forward to seeing you in Washington, D.C., Feb 7 9, 2023.
Interested in sponsoring Habitat on the Hill 2023: Advocacy for Impact? Please review our conference sponsorship packet.