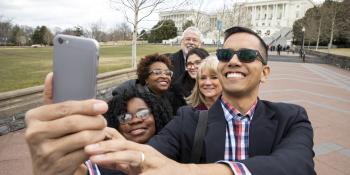 Habitat on the Hill 2024: Reaching new heights, together
Feb. 6-8, 2024
Habitat on the Hill, Habitat's premier legislative conference, annually mobilizes nearly 400 Habitat staff members, board members, homeowners, resident leaders, volunteers and emerging leaders together in Washington, D.C. United by a common purpose, participants represent their communities; engage with each other; learn from esteemed experts in housing; and collaboratively strategize to champion policies that drive home affordability at the local, state and federal levels.
Under the inspiring theme of "Reaching new heights, together," Habitat on the Hill 2024 offers unparalleled opportunity. Attendees will not only deepen their understanding of the urgent need to address the nation's housing challenges through policy change, but will also explore how these policies can serve as transformative tools for advancing racial equity.
Additionally, they'll meet with congressional offices, celebrate a year of policy successes at all levels of government and leave with the tools necessary to increase their advocacy impact locally – all while connecting with peers in our nation's capital.
We look forward to seeing you in Washington, D.C., Feb 6-8, 2024.
Interested in sponsoring Habitat on the Hill 2024? Please review our conference sponsorship packet.