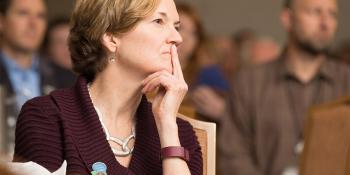 May 14, 2015 public statement
Clarification to Dodd-Frank regulation will allow donated appraisals to support Habitat for Humanity operations across the U.S.
WASHINGTON (May 14, 2015) – Today, U.S. Senator Rob Portman, R-Ohio, introduced a bill, S 1344, that would make a technical clarification to a Dodd-Frank regulation in order to allow Habitat for Humanity affiliates to continue to receive donated appraisals on homes for Habitat builds.
"Habitat for Humanity greatly appreciates Sen. Portman's sponsoring legislation to ensure that appraisers can continue to voluntarily donate their services to Habitat affiliates," said Christopher Ptomey, Habitat for Humanity International's director of government relations. "With Habitat affiliates annually financing approximately 5,000 mortgage opportunities to lower-income families in the United States, each of which will require an appraisal, this legislation will save Habitat affiliates millions of dollars annually and maximize the impact of limited donor and government funding for qualified families in need of decent housing."
Appraisals inform homeowners of the value of their home and also assure Habitat for Humanity affiliates of longer-term affordability and financial sustainability for their partner families. Donated appraisals are an opportunity for the financial community to contribute to Habitat for Humanity's work and enable Habitat to allocate funds to other critical services.
Sign Habitat for Humanity's petition to support the federal housing programs that help Habitat partner with families across the United States to build decent and affordable housing.See a copy of Senator Portman's news release.