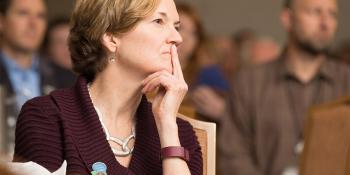 Oct. 8, 2015 public statement
House and Senate bills would clarify Dodd-Frank regulation and allow U.S. Habitat for Humanity affiliates to receive donated appraisals on homes
Washington, D.C. (Oct. 8, 2015) – Yesterday evening, U.S. Reps. Mark Meadows, R-N.C., and G.K. Butterfield, D-N.C., introduced HR 3704, a technical clarification that will allow Habitat for Humanity affiliates to continue to receive donated appraisals on homes built by the organization. In late September, Sen. Rob Portman, R-Ohio, introduced similar legislation, S 2085, co-sponsored by Sen. Michael Bennet, D-Colo.
It is estimated that bill HR 3704 will save Habitat for Humanity affiliates millions of dollars annually while maximizing the impact of limited donor and government funding for affordable housing across the country.
"Habitat for Humanity greatly appreciates Reps. Meadows and Butterfield for their ongoing support of legislation that ensures that Habitat affiliates may continue to accept donated services from fee appraisers to further its mission," said Christopher Ptomey, senior director of Government Relations, Habitat for Humanity International. "Each year, Habitat for Humanity affiliates finance approximately 5,000 mortgages to lower-income families in need of affordable housing. Each of those mortgage opportunities is also an opportunity for an appraisal donation, enabling limited Habitat funds to meet the housing needs of additional families."
Donated appraisals help Habitat for Humanity affiliates ensure long-term affordability and financial sustainability for its partner families. By donating their services, the financial community can support Habitat for Humanity's work and enable its more than 1,400 affiliates to serve more families through other housing services and programs.           
Sign Habitat for Humanity's petition to encourage other senators and representatives to co-sponsor this legislation.