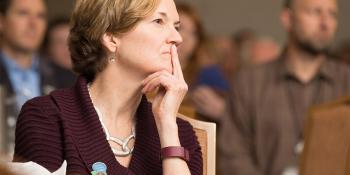 Mar. 16, 2016 public statement
Habitat for Humanity International opposes HR 4018 and supports a strong rule to protect consumers
WASHINGTON, D.C. (March 16, 2016) – Predatory loan practices are harming many Americans, including people who could otherwise qualify to partner with Habitat for Humanity to create a place they would call home. To address the negative financial consequences that a cycle of unaffordable debt imposes on individuals, communities and our economy as a whole, Habitat for Humanity International supports the creation of standards that would ensure that loans are reasonable to both lenders and borrowers.
"Across the country, consumers are being harmed by predatory lending practices involving payday loans, vehicle title loans and other short-term, high-interest debt with interest rates as high as 350 percent and beyond," stated Andrew Szalay, director of state and local relations at Habitat for Humanity International. "These loans are not one-time 'quick fixes' for people facing a cash crunch; predatory loans start a cycle of debt that creates longer-lasting financial challenges, including the inability to qualify for or pay an affordable mortgage."
Driven by the vision that everyone needs a decent place to live, Habitat for Humanity partners with people to build or improve a place they can call home. Habitat homeowners help build their own homes alongside volunteers and pay an affordable mortgage. Payday loan usage is higher among low-income households and Habitat is seeing many potential homeowners unable to qualify because of other loans they have taken out that keep them trapped in debt. Without responsible regulation, the debt trap that predatory lending practices create will continue to prevent lower-income people from becoming first-time homebuyers and impact lower-income individuals' ability to pay their mortgage, rent or other critical expenses.
"Despite its name, the Consumer Protection and Choice Act does not protect consumers and does not provide fair choices," said Szalay. "We support the Consumer Financial Protection Bureau in proceeding with the public comment and rulemaking process to regulate the abusive features of payday loans and similar debt products. We urge Congress to oppose HR 4018 and predatory lending."
Sign Habitat for Humanity's petition to oppose HR 4018 and stop the debt trap.