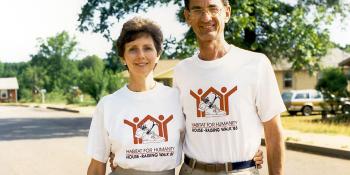 Linda Fuller
Habitat for Humanity co-founder
"To families in seemingly impossible situations, Habitat for Humanity becomes a friend and partner. And, by their own labor and with God's grace, they become owners of a decent home."
― Linda Fuller
Co-founder of Habitat for Humanity International
Linda Fuller and her husband Millard Fuller launched Habitat for Humanity International in 1976. Prior to this, she pioneered a low-cost housing program in rural southwest Georgia  from 1968-1972 and participated in three years of similar work in Africa.
Early years
While Linda was earning her degree in elementary education at Huntingdon College in Montgomery, Alabama, Millard began a marketing firm with a fellow attorney. The business prospered and soon the Fullers were millionaires. But with success and wealth, their marriage suffered. This crisis prompted the Fullers to re-evaluate their lives.
The Fullers then took a dramatic step: they decided to sell all of their possessions―giving the money to the poor—and to begin searching for a new focus, which led them to Koinonia Farm.
Habitat for Humanity International is formed
With Koinonia founder Clarence Jordan and a few others, the Fullers initiated several partnership enterprises, including a housing ministry. Soon, the Fullers began testing a new no-profit, no-interest housing model making homes affordable to families with low incomes. In 1973 they tested this model in Zaire, now the Democratic Republic of the Congo, and were convinced the model could be expanded and applied all over the world.
Upon their return home in 1976, the Fullers met with members of the Koinonia community and several people from across the United States and decided to create a new, independent organization: Habitat for Humanity International. From 1976 to 2005, the Fullers devoted their energies to the expansion of Habitat throughout the world.
Women in construction
A group of women at Habitat for Humanity's international headquarters launched Women Accepting the Challenge of Housing. Eight years and 200 houses later, Linda spearheaded the formation of the Women Build program at Habitat.