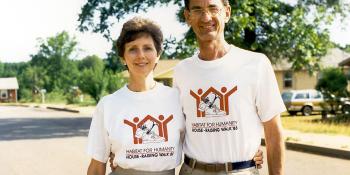 Habitat co-founders: The Fullers
The idea that would ultimately grow into Habitat for Humanity's vision of a world where everyone has a decent place to live began on farm outside Americus, Georgia.
Early years
Coming from humble beginnings in Alabama, Millard Fuller became a self-made millionaire at age 29. Looking for something more, he and his wife, Linda, sold their possessions and began searching for a new focus for their lives. This search led them and their children to Koinonia Farm, a Christian community located near Americus, Georgia, where people were looking for practical ways to apply Christ's teachings.
Housing ministry
With Koinonia founder Clarence Jordan, the Fullers initiated several partnership enterprises, including a ministry in housing. They built modest houses on a no-profit, no-interest basis. Future homeowners invested their own labor into the building of their home and the houses of other families. This reduced the cost of the house and fostered the development of positive relationships and community. Mortgage payments were placed into a revolving fund, enabling the building of even more homes with even more families.
Habitat for Humanity International is formed
In 1973, the Fullers moved to Africa to test their housing model. The project, which they began in Zaire, now the Democratic Republic of the Congo, was a success.
Upon their return to the U.S. in 1976, the Fullers met with a group of close associates and created a new independent organization: Habitat for Humanity International. From 1976 to 2005, the Fullers devoted their energies to the expansion of Habitat throughout the world.
Millard Fuller died in February 2009 at the age of 74.