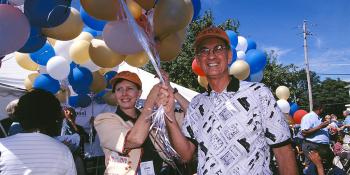 Millard Fuller
Habitat for Humanity co-founder
"I see life as both a gift and a responsibility. My responsibility is to use what God has given me to help his people in need."
―Millard Fuller
Co-founder of Habitat for Humanity International
Millard Fuller co-founded Habitat for Humanity International in 1976 along with his wife, Linda Fuller, and served in executive roles until 2005.
In 1996, former U.S. President Bill Clinton awarded Fuller the Presidential Medal of Freedom—the nation's highest civilian honor—calling Habitat "…the most successful continuous community service project in the history of the United States."
Mr. Fuller died in February 2009 at the age of 74.
A life changed
From humble beginnings in Alabama, Millard Fuller rose to become a young, self-made millionaire at age 29. But as his business prospered, his health, integrity and marriage suffered. These crises prompted Fuller to re-evaluate his values and direction. His soul-searching led to reconciliation with his wife and to a renewal of his Christian commitment.
The Fullers then took a drastic step: they decided to sell all of their possessions, give the money to the poor and begin searching for a new focus for their lives. This search led them to Koinonia Farm, a Christian community located near Americus, Georgia, where people were looking for practical ways to apply Christ's teachings.
The seed is planted
With Koinonia founder Clarence Jordan and a few others, the Fullers initiated several partnership enterprises, including a ministry in housing. They built modest houses on a no-profit, no-interest basis. Homeowner families were expected to invest their own labor into the building of their home and the houses of other families. This reduced the cost of the house, increased the pride of ownership and fostered the development of positive relationships. Money for building was placed into a revolving fund, enabling the building of even more homes.
Testing the model
In 1973, Fuller moved to Africa with his wife and four children to test their housing model. The housing project, which they began in Zaire, now the Democratic Republic of the Congo, was a success in that developing nation.
Upon his return to the United States in 1976, he met with a group of close associates and created a new independent organization: Habitat for Humanity International. From 1976 to 2005, the Fullers devoted their energies to the expansion of Habitat for Humanity throughout the world.