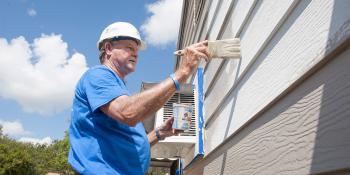 The generosity of our community partners has enabled Habitat for Humanity to help more than 46 million people find strength, stability and independence through safe, decent and affordable shelter. Our community partners do more than help build homes; they are providing a brighter future for families and entire communities around the world.
Find out how your organization can partner with Habitat for Humanity
When your organization partners with us, you will receive a number of reciprocal benefits such as recognition and tax deductions. Additionally, our partners often tell us that the partnership provides an overall increase in their group's morale.
Your organization can get involved through:
Product donations
Financial support
Volunteer engagement
Grants and awards programs
Email [email protected] to learn more about how to get started.
Key community partners
HAP International
Habitat for Humanity International has been named an associate member of the Humanitarian Accountability Partnership, the first international self-regulatory body for organizations involved in humanitarian assistance and disaster response. 
African American Baptist Mission Collaboration
The African American Baptist Mission Collaboration is a partnership of five Baptist communities representing more than 40,000 churches and more than 10 million Christians nationwide.
The AABMC raised money to help Habitat for Humanity rebuild, revitalize and advocate for Haiti in the wake of the devastating January 2010 earthquake.
The American Legion
The American Legion was chartered by Congress in 1919 as a patriotic, war-time veterans' organization, devoted to mutual helpfulness. It is a not-for-profit community-service organization which now numbers nearly 2.5 million members, men and women, in nearly 14,000 American Legion posts worldwide. The American Legion encourages Legionnaires to improve their local communities and communities around the world with Habitat for Humanity.
Habitat and the American Legion have created a toolkit to help Legionnaires better understand Habitat's mission and opportunities for involvement. Affiliates throughout the United States are working with their local Legion post to involve and serve veterans and their families, and the impact—for those served and those that serve—continues to grow.
Willow Creek Community Church
What began as a small group from Willow Creek Community Church with a desire to help families in need, has grown into a strong partnership. Whether in response to local needs, natural disasters or desperate poverty overseas, Willow Creek is an invaluable partner in Habitat's fight against poverty housing.
Clinton Global Initiative
Established in 2005 as a project of the non-partisan William J. Clinton Foundation, the Clinton Global Initiative convenes global leaders to devise and implement innovative solutions to some of the world's most pressing challenges. The goal of the annual meeting is to match people who possess the necessary resources with those who have the most innovative ideas and greatest capacity for implementation.