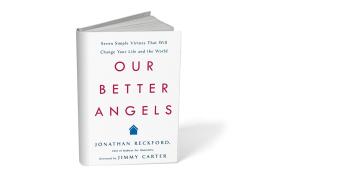 Our Better Angels
A new book by Jonathan Reckford
Our Better Angels: Seven Simple Virtues That Will Change Your Life and the World
By Jonathan Reckford, Habitat for Humanity CEO, with a foreword by Jimmy Carter
Habitat for Humanity CEO Jonathan Reckford has seen time and again the powerful benefits that arise when people from all walks of life work together to help one another. In his new book, Our Better Angels: Seven Simple Virtues That Will Change Your Life and the World, he shares stories of Habitat volunteers and future homeowners.
These individuals embody seven timeless virtues — kindness, community, empowerment, joy, respect, generosity and service — and their stories show how we all can work to improve the quality of our own lives as well as the lives of those around us.
A Vietnam veteran finds peace where he once was engaged in war. A struggling single mother offers her family's time and energy to enrich their neighbors' lives. A Zambian family of nine living in a makeshift tent makes room to shelter even more. A former president of the United States leads by example with a determined work ethic that motivates everyone around him.
These stories, and many others, illustrate how virtues become values, how cooperation becomes connection, and how even the smallest act of compassion can encourage actions that transform the world around us. Embrace with passion the calling of our better angels to change the way we take care of ourselves, our families, our communities and the world!