5 faces of the 2023 Carter Work Project
"If you've ever wondered what love sounds like, you're about to hear it," Garth Brooks said to the homeowners and volunteers gathered during the last quiet moments leading up to the 2023 Carter Work Project in Charlotte, North Carolina.
Soon, the site filled with the sound of hundreds of hammers clattering toward the same goal – helping 27 homeowners build their own affordable homes where they will find stability and security for better futures.
Garth Brooks and Trisha Yearwood were this year's hosts, carrying on the incredible legacy of former U.S. President Jimmy Carter and former first lady Rosalynn Carter.
Here are just a few of the faces that bring the time, talent and gifts needed to make the project possible!
Amia
Charlotte, North Carolina
Amia is thrilled to be volunteering at her first Carter Work Project. A former AmeriCorps member with Habitat Charlotte, she continues to be drawn to Habitat's mission.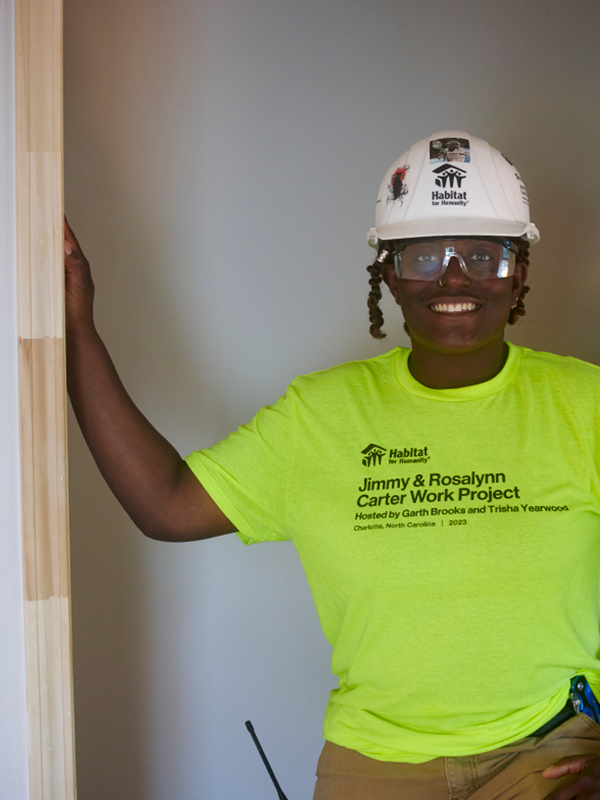 "I think before I knew about Habitat, before I even got involved, I knew that I wanted to do something in service to others, and I wanted to be a part of something that was bigger than myself. Habitat fulfills that for me. But it's an exchange, right? It's not just that I'm serving people. Habitat serves me."
—Amia, Habitat AmeriCorps alum
Jean and Gene
Lexington, Kentucky
Married couple and longtime Carter Work Project supporters Jean and Gene are excited to be back on the build site.
"It's about the connections and friendships we've made. People are here from all walks of life and whether they're old or young, Republican or Democrat, we are all here for the same reasons," Gene says.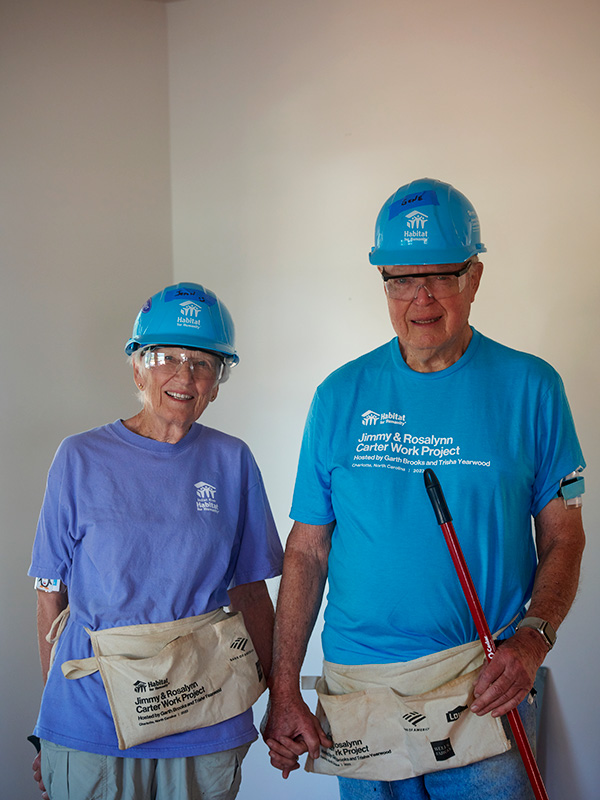 "President Carter has always said get out of your comfort zone, and with the Carter builds or really any Habitat builds, you get out of your comfort zone. You do things you'd never thought you'd do and also things that make a difference. One thing I've learned is whether sweeping floors or putting up walls, everything needs to be done."
—Jean, Habitat volunteer
Dr. Ernie
Orlando, Florida
An emergency room physician, Dr. Ernie has been giving his time and talents to the Carter Work Project as a medical team volunteer since 2004.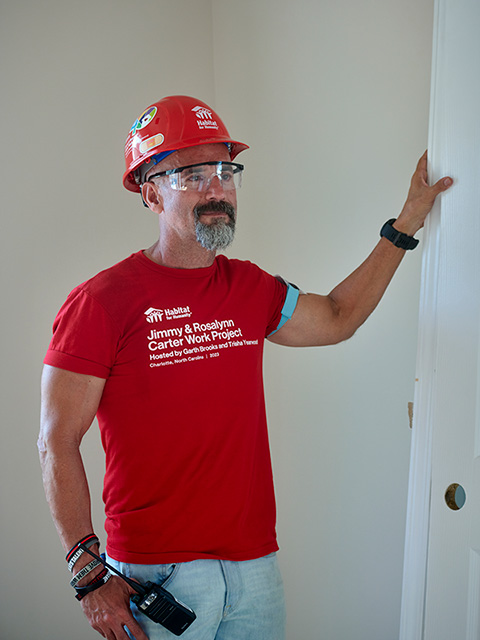 "I'm contributing to people finally having a safe home. That's something I see as a health issue. But I also get to practice medicine in the way that it was intended, without barriers. The gratitude I get from volunteers here renews my commitment to medicine. I leave with the sense that I've made a difference in the lives of homeowners and volunteers and for myself."
—Dr. Ernie, Habitat medical team volunteer
Robin
Charlotte, North Carolina
The homeowners are part of what makes Habitat so worthwhile for Robin, a small business owner in Charlotte and an active community volunteer.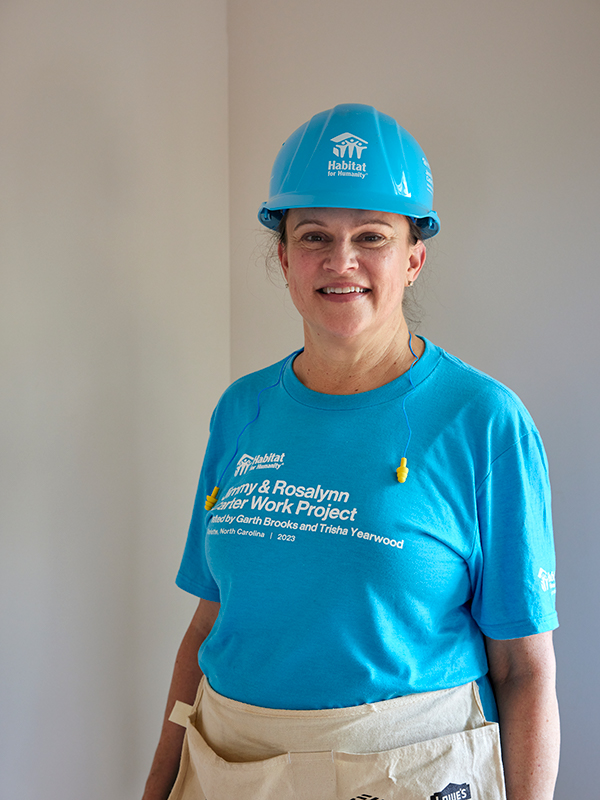 "It is really humbling to hear stories of homeowners and the futures they have already envisioned. Their family dinners, the way they celebrate their holidays. They've already imagined that home as they worked on it. They imagined it with the walls up and painted and curtains on the windows and a welcome mat at the door. It's just a privilege to be part of this."
—Robin, Habitat volunteer
Chuck
Mt. Pleasant, Wisconsin
Chuck jumped on his first Carter Work Project in 2007, and since then, he's remained a loyal volunteer. In Charlotte, he's serving as a house construction leader.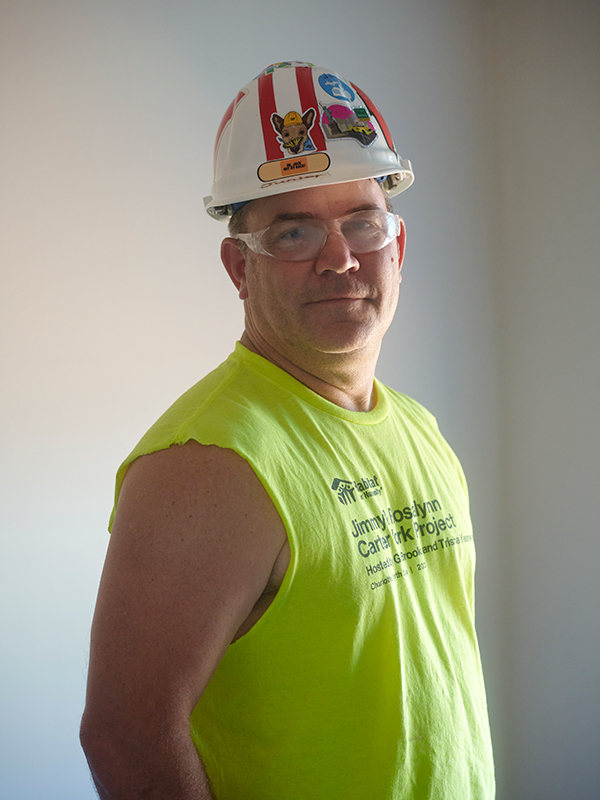 "I love being at Carter Work Projects for the camaraderie among all the volunteers.
I love to pass along these skills and watch people who've never hammered a nail or used a tape measure learn how to become empowered out here."
—Chuck, Habitat volunteer