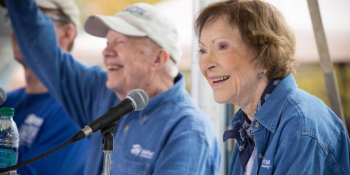 Inspiring moments from past Carter Work Projects
As volunteers and as advocates, President and Mrs. Carter's unwavering commitment to decent, affordable housing has inspired millions and changed lives around the world.
Since the beginning of the Carter Work Project, they've worked alongside more than 104,000 volunteers in 14 countries to build, renovate and repair 4,390 homes.
"It's never a sacrifice," Mrs. Carter has said. "It's always a blessing. It just does something to your soul … to be able to help people who really need help."
As we geared up to resume the Carter Work Project in Charlotte on Oct. 1, we looked back at the inspiring moments that spark when homeowners, volunteers and supporters come together under a common mission.
"We get to see despair transform into hope over and over," President Carter has said. "We get to see changes in the lives of people who have moved into new homes and who now have new hope."
San Jose, California
2013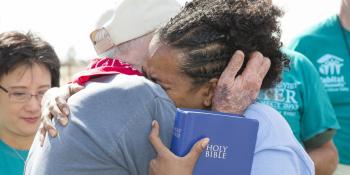 For Semira and her two children – Fiona and Jimmy – the 2013 Carter Work Project in San Jose, California, was life-changing.
"I am a hard-working mother," Semira said. "I want to provide a safe place for my children to grow up."
Semira, who built her home alongside hundreds of volunteers, knew that a decent, affordable home would pave the way for her family's future. "Financially and physically, we will feel safe, and I will be able to save more money for my children's education and their future," she said.
Dallas and Fort Worth, Texas
2014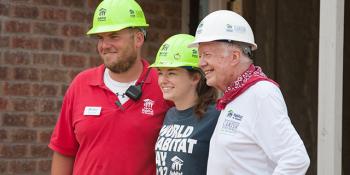 The week of the 2014 Carter Work Project, Sara Parrish and Taylor Fowler had planned to get married on a North Carolina beach. However, the young couple stayed for the build so Taylor could handle his duties as construction director at Dallas Area Habitat.
When President Carter heard about the young couple's sacrifice, he gave them a presidential photo opportunity.
"He told me I was going to be a beautiful bride," Sara said. "When I asked him to be in the middle for a photo, he insisted that I be in the middle, because I'm the bride!"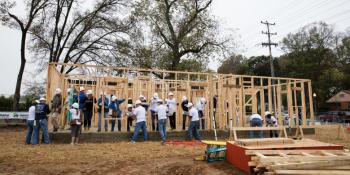 In 2016, Kathy Knapp from Evansville, Indiana, was working on her 10th Carter Work Project build site. The homeowners' incredible dedication was one of the magnets that kept her coming back to Habitat.
"People having the chance to own their home – just to work side by side with them, you see that these are people who have a dignity about them," Kathy said. "The home is a springboard for them and their lives."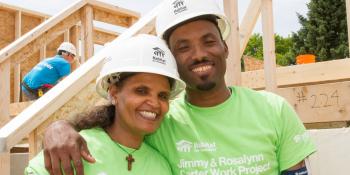 To help homeowners like Teberh and Alem, volunteers from all over Canada and the United States came together for the 2017 Carter Work Project.
"They spend all day, in the sun, in the rain, in the wind, in whatever," Teberh says. "They are teaching us a good lesson, to do more for other people."
Teberh and Alem were so excited for their four children to have the room they needed to thrive.
"The children need their own space to be able to focus on school," says Alem. "They also need a space where they can play and laugh. This is our big chance."
Mishawaka and South Bend, Indiana
2018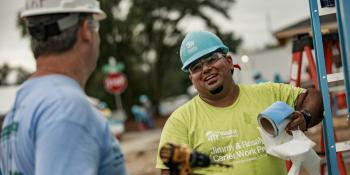 At the opening ceremonies for the 2018 Carter Work Project in South Bend, Indiana, homeowners Benito and his wife, Jhunixa, spoke for the families as they thanked President and Mrs. Carter, volunteers and donors.
"Knowing that my children can grow in a home that their mother and father have worked so hard for means so much," Benito said.
Indeed, that week he, his wife and fellow homeowners helped build and repair 41 homes, helping to bring hope to the Mishawaka and South Bend communities.
Nashville, Tennessee
2019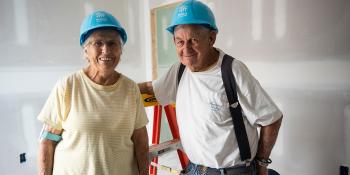 Volunteers Steve and Barb Szemenyei have yet to have a dull moment over their 17-year history with the Carter Work Project – they've built across the world, from South Africa to South Dakota. Nashville was no different.
"I can't believe the life we've had," Steve said. "The people we've met, all the good that has happened – so much of it happened through Habitat."