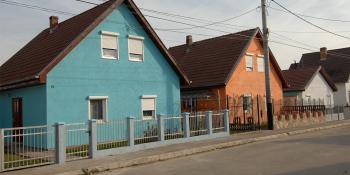 Tithing Partners
Europe, Middle East and Africa
Habitat for Humanity's goal is to eliminate poverty housing worldwide. The tithe program was created as a means for affiliates to be active participants in Habitat´s global ministry while also impacting the need in their local communities. Through the Tithe Program, affiliates and Habitat Campus Chapters get the opportunity to (among others);
Have both a global and a local homebuilding program
Maintain and grow the Habitat ministry in developing countries
Learn about housing in the developing world through visits and information sharing etc.
Make a difference in an area of great need by sharing their resources with developing countries worldwide
Make it possible to achieve a world where someday, everyone will have a good place to call home
What you can do
Establish a tithe partnership with a country in EMEA
Follow-Your-Tithe; Visit or come build with your tithe partner and experience the diversity of the region and its people. EMEA has a long experience of hosting teams from all over the world and we would love to host your affiliate team! (please check the Global Village section on the web or contact us at gv.emea@habitat.org)
Host a member from your tithe country.
Use your tithe as a way to promote the impact your affiliate is having on substandard housing globally (PLEASE count the houses you build internationally and share the numbers in your communications; newsletters, website, Facebook etc)
100% of tithe gifts are sent to the designated country. For many of these countries, raising money locally is very difficult or impossible. Tithe is often the major contributor to overall funds raised for their programs. Your tithe, regardless of the amount, can help us maintain and grow our programs and serve more needy families on a wider scale. In some of these countries the exchange rate is as high as $1 – 3000 or more.
EMEA Tithe Priority Countries: Ethiopia, Lesotho, Malawi, Kenya, Tajikistan, Uganda, Zambia and Macedonia.
EMEA countries also eligible to receive tithe: Armenia, Bulgaria, Cote d'Ivoire, Egypt, Hungary, Jordan, Kyrgyzstan, Lebanon, Poland, Romania, South Africa and Tanzania.
For more information, please contact:
Ronald Kiconco Ongopa
Donor Relations Manager
Email: rongopa@habitat.org
Skype: hebrews122829
OR
Zuzana Matusova
Donor Relations Officer
Email: zmatusova@habitat.org
Skype: Zuzana_matus
To send your tithe, please mail your checks to;
Habitat for Humanity International
121 Habitat Street
Americus, GA 31709-3498
Do not forget to include "TITHE" and country name in the memo section of the check!
We promise to:
promptly acknowledge all gifts
provide you with photos, family stories and any other information that you require
send quarterly updates
"It is so incredible that you are so focused on the world needs as an affiliate. You inspire us all to do good work and help others.We are proud to call you our partner affiliate. Thank you for your inspiration."
— Carol Davidson, Habitat for Humanity of Hood County
"We enjoy the regular updates about the progress in Tajikistan and appreciate all the work you and your team does to make it possible. Thank you for your partnership and faith."
— Heather Lafferty, Executive Director, Habitat for Humanity Metro Denver