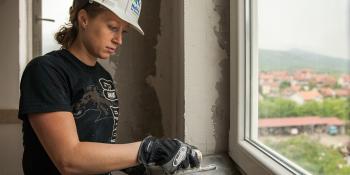 Individual volunteering
Europe, the Middle East and Africa
Habitat for Humanity offers international volunteer programs for people who would like to contribute to our mission of a world where everyone has a decent place to live. Families all around the world partner with us to build decent, sustainable homes and stronger, more stable communities.
Short-term volunteer opportunities
If you are looking to volunteer through one of our international volunteer programs, you can join one of our open teams working alongside other volunteers. Our groups are welcoming and provide a great way to meet fellow volunteers.
These programs are run by our national offices in different countries. Please, contact the relevant country office if you are interested to join one of our international volunteer programs:
Germany, Switzerland and Austria | gv@hfhd.de
Great Britain | hello@habitatforhumanity.org.uk
The Netherlands | info@habitat.nl
Northern Ireland | gv@habitatni.co.uk
Ireland | gv@habitatireland.ie
The United States | gv@habitat.org
Canada | globalvillage@habitat.ca
Another country in Europe, the Middle East or Africa | gv.emea@habitat.org
Long-term volunteer opportunities
We design and oversee international trips for individuals looking to immerse themselves in a project or a country for between three months and one year. Trips of this length allow individuals to develop a deep understanding of the culture, community and country where they are volunteering, and they are highly rewarding. We are looking for people with a range of skills, not just in housing or construction.
If you would like to take this kind of volunteer trip, please check out our International Volunteer Program page.