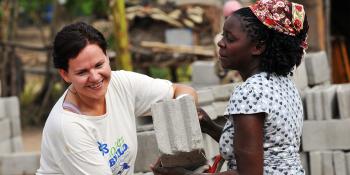 Volunteer abroad
Europe, Middle East and Africa
Habitat for Humanity believes that by connecting communities from around the world, we move closer to a world where everyone, everywhere has a decent place to call home. 
To achieve this goal and vision, we run a volunteer program that spans 40 countries called Global Village for schools and universities, corporations and volunteer groups of committed people.
Volunteering with us means you will work, under expert supervision, with local volunteers and future homeowners as they seek to improve their lives by building or renovating their homes and communities.
The work is rewarding in many ways and doesn't require any prior expertise or training.
After a three-year hiatus caused by the COVID-19 pandemic, Habitat's Global Village volunteer program is gradually resuming. We have relaunched volunteer opportunities within regions and are making careful plans to restart a retooled and even more impactful version of the global program.
Taking a phased approach, we are happy to present a portfolio of regional volunteering opportunities in Europe and Middle East (for volunteers from Europe and Middle East) with the potential to resume our global program next year.
At present, we mostly offer volunteering opportunities to closed groups. These can be corporate teams, groups from institutions, academia or faith based groups, and even friends and family who want to fundraise and work for a good cause.
You can read more about corporate volunteering or contact us via emails listed below (based on which country you would be traveling from).
The usual group size is 10-20 volunteers, depending on the program.

Currently only adults (above 18 years old) can participate in our regional volunteering opportunities.

Our program for individual volunteers is still on hold until further notice.

If you do not have a team at the moment do stay in touch by subscribing to our newsletter, donating to our cause or finding out if there are opportunities to volunteer locally, in your country.
"I love the idea of real hands-on kind of helping, instead of just writing a cheque and hoping it ends up in the right place. I know exactly who I am helping and why."
— Catie McGonagle, St. Columba's College, volunteer in Hungary