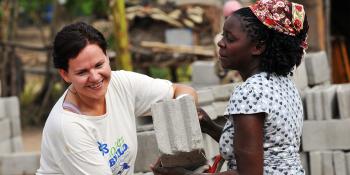 Volunteer abroad
Europe, Middle East and Africa
Habitat for Humanity believes that by connecting communities from around the world, we move closer to a world where everyone, everywhere has a decent place to call home. 
To achieve this goal and vision, we run a volunteer program that spans 40 countries called Global Village for schools and universities, corporations and volunteer groups of committed people.
Volunteering with us means you will work, under expert supervision, with local volunteers and future homeowners as they seek to improve their lives by building or renovating their homes and communities.
The work is rewarding in many ways and doesn't require any prior expertise or training.
Volunteer abroad programs
We have a range of volunteer programs around the world designed for different organisations and different objectives. If you would like to volunteer, please contact the relevant country office listed below:
Germany, Switzerland and Austria | [email protected]
Great Britain | [email protected]
The Netherlands | [email protected]
Northern Ireland | [email protected]
Ireland | [email protected]
The United States | [email protected]
Canada | [email protected]
Other countries of Europe, the Middle East or Africa | [email protected]
"I love the idea of real hands-on kind of helping, instead of just writing a cheque and hoping it ends up in the right place. I know exactly who I am helping and why."
— Catie McGonagle, St. Columba's College, volunteer in Hungary