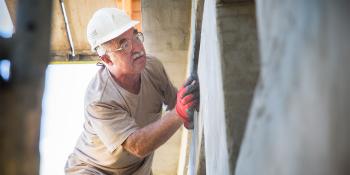 Volunteer with Habitat for Humanity
Anyone who can hold a hammer or a paint brush is welcome to the work of Habitat for Humanity. Volunteers provide man power that allows the building of homes or the making of renovations at considerably lower costs.
Habitat for Humanity works with schools, universities, corporations and other groups of committed individuals to design and deliver construction volunteer programs, which help to build houses for people in poor communities.
After a three-year hiatus caused by the COVID-19 pandemic, Habitat's Global Village volunteer program is gradually resuming. We have relaunched volunteer opportunities within regions and are making careful plans to restart a retooled and even more impactful version of the global program. 
At present, we can only offer abroad volunteering opportunities to closed groups. These can be corporate teams, groups from institutions, academia or faith-based groups and even friends and family who want to fundraise and work for a good cause.  
If you do not have a team at the moment do stay in touch by subscribing to our newsletter, donating to our cause or finding out if there are opportunities to volunteer locally in your country.
Find out more about corporate volunteering, volunteer programs for schools and universities, and volunteer groups of committed individuals if you want to help low-income people in different countries around the world build a better life for themselves.
Do you want to volunteer with Habitat for Humanity?
Please contact the relevant country office (based on which country you are based in / would be traveling from):
Germany, Switzerland and Austria | [email protected]
Great Britain | [email protected]
The Netherlands | [email protected]
Northern Ireland | [email protected]
Ireland | [email protected]
The United States | [email protected]
Canada | [email protected]
Another country in Europe, the Middle East | [email protected]
Other countries in Africa | [email protected]
Volunteer quotes
"Even during my short time in Lebanon, I was able to witness households transform into more liveable homes."
— Catarina Hanna-Amodio, volunteer in Lebanon
"My trip with Habitat is one of the best things I've ever done. It has changed my perspective by showing me the power of having a home."
— Laura McCann, University of Ulster, volunteer in Ethiopia