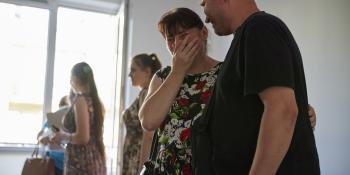 Ukraine war
Habitat for Humanity's response
The Russian invasion of Ukraine has forever changed the lives of millions of people, both inside and outside of the country. With over 8 million refugees seeking shelter in neighboring countries and beyond, and more than 5 million people estimated to be internally displaced in Ukraine, the work that lies ahead of organizations such as Habitat for Humanity is immense. Habitat was on the ground in Poland, Romania, Hungary, Germany and Slovakia since day one, accompanying refugees on the move and in their search for mid- and long-term accommodation, by supporting housing arrangements with host families, refurbishing and furnishing communal spaces, repurposing empty spaces, subsidizing rentals and running social rental programs.
As the situation in Ukraine continues to deteriorate, most of the population must shelter from harsh winter temperatures in damaged buildings, with limited or no access to gas, electricity and water. Through partnerships on the ground in Ukraine, Habitat supports direct repairs and winterization upgrades for particularly vulnerable families as well as repairs of small-scale community-level infrastructures. We are also supporting the energy-efficient modernization of multi-apartment buildings.
Read the stories and listen to the testimonies of families who found shelter in neighboring countries
Support disaster response efforts for Ukraine and in communities around the world.