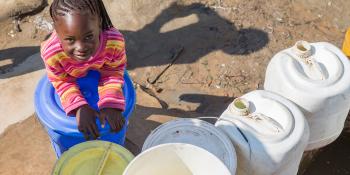 Water, sanitation and hygiene
Europe, Middle East and Africa
Shockingly, over 650 million people still use unimproved drinking water sources. Nearly half of these people live in sub-Saharan Africa. More than 2 billion live without sanitation, primarily in Asia, sub-Saharan Africa and Latin America and the Caribbean.
Habitat for Humanity works to improve the water supply and cleanliness of human settlements. We also work to promote sustainable hygiene practices through initiatives often referred to as water, sanitation and hygiene or WASH programs.
WASH programs are among the most cost-effective housing and settlement ways to improve the conditions of people living in poor conditions. Habitat often includes WASH initiatives in our disaster reduction and response programs.
Our WASH interventions include both a 'software' and 'hardware' component. For example, 'software' might be an education program designed to improve hygiene habits, whereas 'hardware' would be building an actual facility or making infrastructure improvements like piping. By combining both components, programs become more effective and sustainable.  
We place great emphasis on analyzing the social, technological and economic impact of each project, including risk mapping, to ensure our work is sustainable and effective. We also focus our support on vulnerable groups including orphans, widows, the handicapped, in addition to leprosy communities and those suffering from HIV.
In urban slums and rural communities, we also support – and create when necessary – community councils to make WASH-focused needs assessments, plans and services. As always, we collaborate with multiple stakeholders, including those in the public and private sectors, to achieve better outcomes.
But our involvement goes beyond changing infrastructure. For example, Habitat also engages young people to create social enterprise opportunities and we conduct education and behavior change campaigns to promote hygiene and other positive social habits.
We also work with microfinance institutions, local service providers and entrepreneurs to expand the availability of affordable financial and technical WASH products and services to families living in poor conditions.
Donate now
Every donation makes a difference.