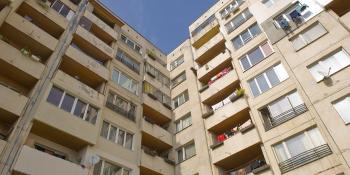 Residential Energy Efficiency
Europe, Middle East and Africa
In many parts of Eastern Europe and Central Asia, energy poverty is at epidemic proportions.
Residential energy is eating up more than 30 percent of the total energy usage, leaving people with low incomes and those in the poorest communities trapped in a cycle of poverty. Unable to afford the capital to improve their old and poorly built housing, they have to sacrifice essentials such as food to pay their heating bills.
Habitat for Humanity is working with USAID to pioneer new ways to help communities overcome the legacy of poorly built, energy inefficient housing stock of multi-apartment buildings, and to create strong, stable and healthy communities for the future.
At the heart of our approach is creating an 'ecosystem of stakeholders' in which the challenges of 'common space renovations' and its financing are funded by appropriate loans. This approach also empowers local stakeholders to take action through their local housing associations or representative bodies.
We are using this approach in Armenia, Bosnia and Herzegovina and Macedonia. Our projects in these countries have been highly successful at producing real improvements in energy efficiency and reducing energy costs, as well as enhancing social cohesion, comfort and health.
We are keen to work with more partners and funders to scale up this and other energy efficiency programs in Europe, the Middle East and African. You can read more about our work and contact us directly.
The Residential Energy Efficiency for Low-income Households project is one of the many assistance projects supported by the American people through the United States Agency for International Development (USAID). Since 1992, the American people through USAID have provided a broad range of development programs in Armenia and Bosnia and Herzegovina, shifting from an initial humanitarian emphasis to assistance for economic, political and social transition.