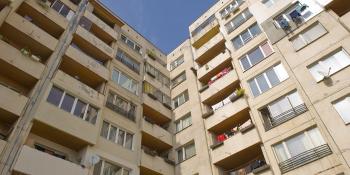 Residential Energy Efficiency
Europe, Middle East and Africa
Residential energy accounts for more than 30 percent of energy use in most countries of Europe and Central Asia. Previous construction and heating methods did not focus on saving energy. As a result, a highly inefficient usage combined with rising prices put heavy burdens on low-income households.
Many of the people living in privately owned multi-unit buildings in Eastern Europe and Central Asia are affected by energy poverty meaning they pay more than 10% of their income on their heating bills. Heating bills are high because usually these buildings were built between the 1950s and 1980s with poor insulation standards and since then they even deteriorated further as no significant improvement took place in the last 25 years.
To address this issue Habitat for Humanity developed a threefold approach supported by USAID:
Helping homeowner associations improve building maintenance and management.
Bringing together the different stakeholders to develop new financing and delivery models for residential energy efficiency.
Run retrofitting demonstration projects to convince stakeholders and the general public how residential energy efficiency works in practice.
Based on our experience in three countries (Armenia, Bosnia and Herzegovina and Macedonia) and on the research we carried out with partners, we developed a knowledge platform to share our learning with international stakeholders. Please check the knowledge platform.
This web page is made possible by the support of the American people through the United States Agency for International Development (USAID). The contents are the sole responsibility of the Habitat for Humanity Europe, Middle East and Africa and do not necessarily reflect the views of USAID or the United States Government.