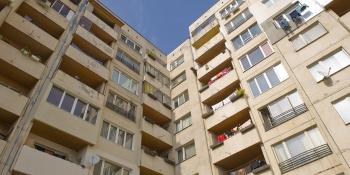 Residential Energy Efficiency
Europe, Middle East and Africa
In many parts of Central and Eastern Europe (CEE), in Western Balkans and in the former Soviet Union (CIS) countries, energy poverty is at alarming levels. This is mainly due to high energy prices and poor energy efficiency of residential buildings, inefficient heating systems and old household appliances in privately owned housing units, which dominate in the region.
Residential energy is eating up more than 30 percent of the total energy usage, leaving people with low incomes and those in the poorest communities trapped in a cycle of poverty. Unable to afford renovation works for their old and poorly built housing, they are forced to sacrifice essentials such as food to pay their energy bills. It becomes impossible to step out from this poverty cycle due to lack of information, finances and organizational structures that could help the owners in the multi-apartment residential buildings overcome these problems.
With energy efficiency renovations, residents benefit not only from living in warmer homes but also from paying lower energy bills. Better living conditions and higher comfort improve the overall wellbeing of people.
Habitat for Humanity International is currently implementing two projects – REELIH and ComAct – which help to solve the "heat or eat" dilemma of low-income families by increasing energy efficiency of multi-apartment residential buildings in the region. With these two projects, we support seven countries: Bosnia and Herzegovina, Armenia and North Macedonia, Ukraine, Lithuania, Hungary and Bulgaria.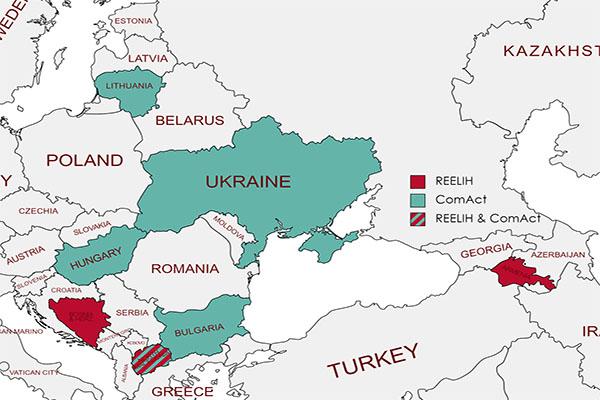 Residential Energy Efficiency for Low-Income Households (REELIH)

Project Duration:
August 2012 – December 2021
The REELIH project, led by Habitat for Humanity and USAID, has been pioneering in developing new ways to help communities overcome the legacy of poorly built, energy inefficient multi-apartment building stock while contributing to creation of strong, stable and healthy communities and neighborhoods.
At the heart of REELIH's approach is creating an "ecosystem of stakeholders" in which the challenges of common space renovations and its financing are funded by appropriate funds and loans fitting the needs of the low-income households. This approach empowers local stakeholders to take action through their local housing associations or representative bodies. At the same time, such mobilization of communities and their motivation to renovate opens the construction market. The environmental benefits of the renovation are similarly crucial since these residential buildings currently top "the black list" of producers of CO2 emissions.
The project has been implemented in three countries: Armenia, Bosnia and Herzegovina and North Macedonia, where the project succeeded in achieving real improvements in energy efficiency and reducing energy costs. It helps establishing functioning management mechanisms for the residential multi-apartment co-owned buildings, enhancing the social cohesion in the neighborhoods, improving living standards and health outcomes.
The REELIH "eco-system" as we call it shows the complexity of decision-making and how this system of stakeholders works and brings benefits to the homeowners: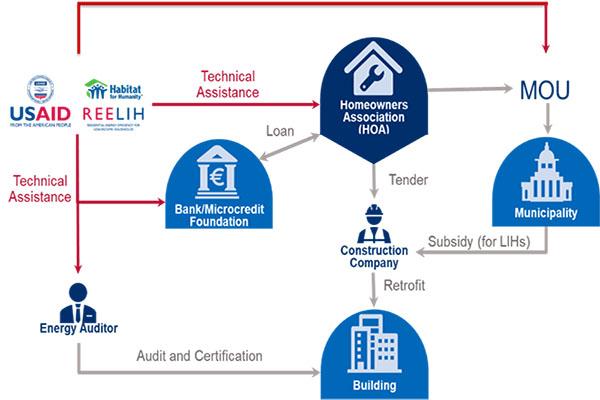 Project partners:
The Residential Energy Efficiency for Low-income Households project is one of the many assistance projects supported by the American people through the United States Agency for International Development (USAID). Since 1992, the American people through USAID have provided a broad range of development programs in Armenia and Bosnia and Herzegovina, shifting from an initial humanitarian emphasis to assistance for economic, political and social transition.
Community Tailored Actions for Energy Poverty Mitigation (ComAct)

Project Duration:
September 2020 – August 2023
Winning the Horizon2020 funding from the European Union last year, ComAct has become the second thematic project. Habitat for Humanity International leads a consortium of partnering organizations who work on alleviating energy poverty in the CEE and CIS region.
Resulting from mass privatization in the 1990s and coupled with the deconstruction of the social safety net, the housing stock in this region currently consists mostly of privately co-owned buildings. These buildings are characterized by a large percentage of multi-family apartment blocks lacking functioning homeowner associations and any maintenance mechanisms. Undertaking renovation works in these old, energy inefficient multi-family buildings, however, requires coordinated action among the apartment owners.
To address the complex roots of energy poverty, there is a need to develop a new approach to make interventions affordable, substantially influence energy costs and consequently reduce the high energy poverty levels. By identifying the energy poor households, intervening through stakeholders, communities, financial and technical support, the approach will be tested in five pilot countries: Bulgaria, North Macedonia, Lithuania, Ukraine and Hungary. It will serve as a basis or "know-how" for future projects implemented in the region.
The project approach visualized in a scheme shows the process of transforming energy inefficient buildings into more energy efficient and sustainable units: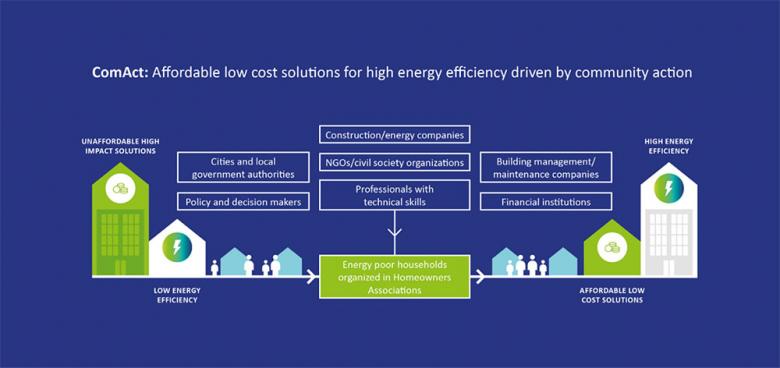 We are keen to work with more partners and funders to scale up these and other energy efficiency programs in Europe. Read more about our work on project websites or contact us directly.