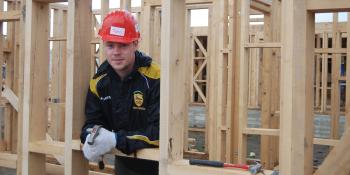 Create your own volunteer team
Europe, the Middle East and Africa
Many people who want to volunteer abroad, decide to form their own 'volunteer team,' rather than travel alone or join an open team.
Habitat for Humanity warmly welcomes volunteer groups who wish to help building or renovating homes for low-income people in different countries and will support you every step of the way.
How  does it work?
We can organize a one to two weeks Global Village volunteer trip for you in different countries around the world. During your volunteer trip, you and your team will work alongside local volunteers, skilled workers and project managers in a safe and supervised way to assist with the project.
We will assign you an experienced volunteer coordinator who will provide thorough training and support to ensure that you are well introduced to all aspects of pre-trip preparation, on-trip wellbeing as well as steps that are taken after you return. They will also help you put together a budget, an itinerary and help you work out how to use Habitat's free fundraising website.
You will also get the chance to explore the local culture and community while also getting time to yourself to understand and explore. Plus, you will be supported by an experienced, local Habitat coordinator.
Who can volunteer?
We welcome all people that are 16 years old or older. You and your volunteer team do not need any prior construction experience. During this trip you may feel like you pushed your limits, however, you will experience an amazing, rewarding feeling of accomplishment and have a unique opportunity to meet and explore different cultures.
Because we have been organizing international volunteering trips for almost 30 years, you can be assured your trip will not just be life enhancing but also safe, secure and ethical.
"It helped me show how hard work and progress can create something beautiful for people that aren't as privileged as others."
— Kim Carolin Voll, volunteer in Macedonia